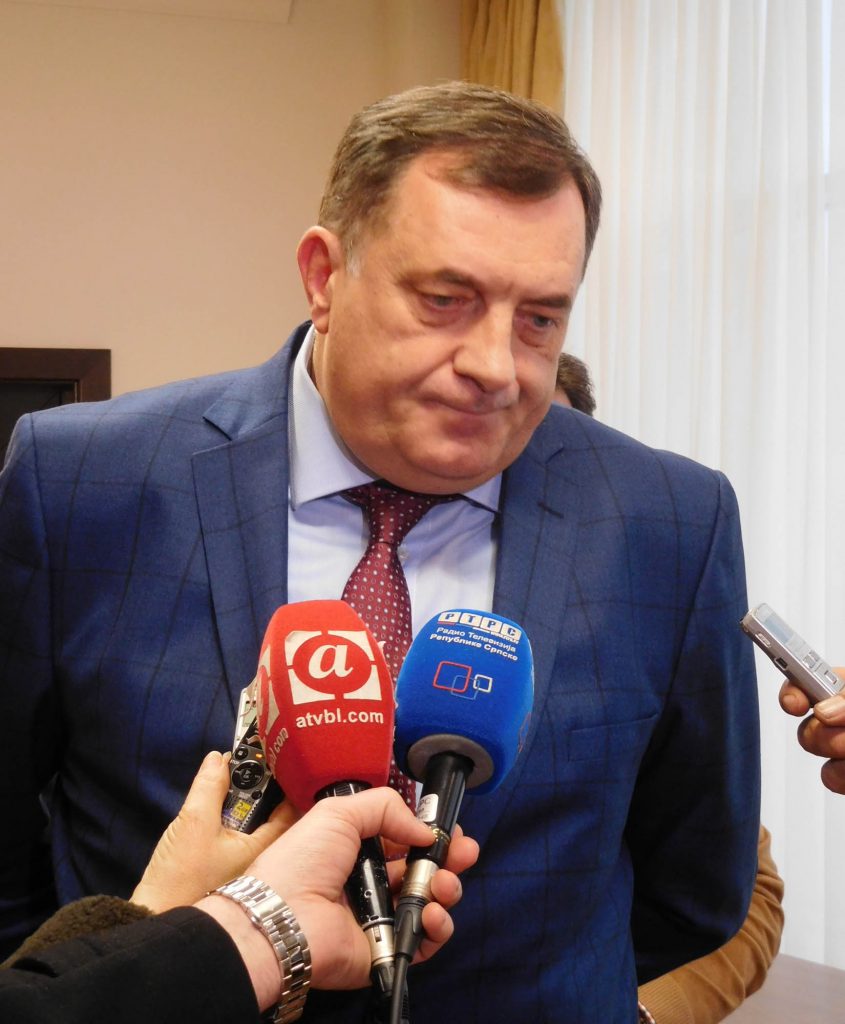 The last days of this year in BiH are, obviously, reserved for RS president, Milorad Dodik, and a number of events with him in leading role.
After all attempts to convince all citizens that he is a "big face" in BiH as the only one who received invitation on US president, Donald Trump, inauguration, Dodik reserved the "front seat" at the media with his arrival at the BiH Prosecution office to give a statement as suspect in case of illegal referendum about RS Day, holiday which BiH Constitutional court declared as "not in accordance with BiH Constitution", since it is not the date which would be suitable for citizens of all nations, but just for Serbs. Dodik earlier stated that he will "never answer on the call of BiH Prosecution Office" since it is in Sarajevo, which he considered as enemy territory and the place where he is not safe. However, his very resolute stance on this issue was broken on Friday afternoon when he finally accepted the reality and went in Sarajevo to be questioned.
Earlier, all members of the Referendum Commission and other relevant institutions which were linked with decision on referendum went through a similar procedure. Some of them were questioned as suspects in this case and some as witnesses, but all said that prosecutors were fair and didn't pass the borders of the case. Dodik offered to prosecutors to come in Banja Luka, or in East Sarajevo, in RS territory, but it was not accepted.
After the questioning in Sarajevo, Dodik said that this event lasted less than one minute and that he still doenn't understand why they called him. He stated that prosecutors don't have the legal base to continue the case and that all this is a "politicaly motivated thing".
Just a few days before his arrival in Prosecutor's Office, Dodik said that he had a telephone conversation with US Deputy Assistant Secretary of State, Hoyt Yee, who demanded that he responds to the Prosecution's Office call. Dodik linked this conversation with the fact that the US Embassy in Sarajevo refused to issue him a diplomatic visa in order to travel to the US to attend Trump's inauguration. The reason for the refusal was that the US Embassy considered his trip as private and that he will not represent BiH institutions on this events. After the refusal, Dodik submitted the application as ordinary citizen.
Many in the country believe that this visa will be issued since RS President  fulfilled the US Administration demand about the "referendum investigation". At the same time RS cities are making the last preparations for RS Day, January 9, celebrations, despite the BiH Constitutional Court decision. Many believe that Dodik will hold this celebration this year, just to show to citizens that he doesn't abandon their votes on referendum, but that this celebration will be the last one. In the future, some manifestations are certain but not as it was in the last two decades.
With the big celebration of this holiday in Banja Luka coming up, Dodik reserved his place in the media for the first days of January. Of course, he will be the protagonist of these events and media reports./ΙΒΝΑ