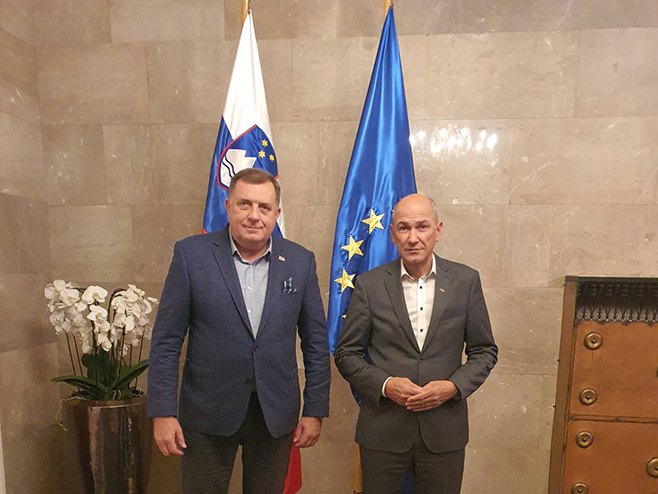 The leaders of the Alliance of Independent Social Democrats (SNSD) continue a sharp political offensive, convincing the prime ministers in the region that their idea of ​​annulling the consent to form some of the most important institutions at the state level is, in fact, saving Bosnia and Herzegovina from disintegration.
While the President of the Republika Srpska and the Vice President of the SNSD, Željka Cvijanović, during her stay in Washington, held meetings with members of the US Congress and Special Envoy for the Balkans, Gabriel Escobar, the party president and Serbian member of the BiH Presidency, Milorad Dodik met with Hungarian Prime Minister Viktor over the weekend. Orban and the Prime Minister of Slovenia, Janez Janša.
It is interesting that the announcements on the topics of these meetings are brief and do not say anything about the specific issues that were discussed, but also that we can talk about private or semi-private visits and talks. Hungarian Prime Minister Orban came to lunch with Dodik almost illegally on Saturday, and the meeting took place in a restaurant on the banks of the Vrbas River, so the Hungarian delegation, which included Foreign Minister Peter Szijjarto, did not even see the RS government building in Banja Luka, where Dodik has his office.
From several usually formal sentences published after the meeting, nothing could be learned about the views expressed by the two delegations on the situation in BiH and the Western Balkans. However, as Orban met with the new High Representative in BiH, Christian Schmidt (whom Dodik, Russia and China do not recognize) two days before the meeting with Dodik, it is said that the Hungarian Prime Minister came as a negotiator between the two, with the task to resolve the vacuum created by the fact that Schmidt's appointment was not confirmed by the UN Security Council.
The very next day, Sunday, Dodik was in Slovenia, where he had dinner with the Prime Minister of that country, Janez Jansa. And again – after the meeting, there was no official announcement, but Janša posted a photo on Twitter and a short comment that he had a "meaningful conversation" with Dodik about the situation in BiH.
"Territorial integrity and respect for the existing constitutional order, taking into account the same rights for all, are the basis for the coexistence of the people in BiH and the solution of current dilemmas. The future lies in BiH's full sovereignty and EU membership," Jansa said.
If we take into account that Dodik recently met with Croatian President Zoran Milanovic and that meetings with Serbian President Aleksandar Vucic are already a routine thing, it can be concluded that Dodik is seeking support in the region for what is not available in state-level institutions. If Dodik intends to form parallel institutions, things in BiH become very dangerous.