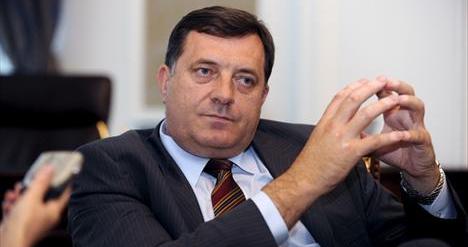 By Maja Tuljković – Sarajevo
B&H political representatives will meet with EU Enlargement Commissioner Stefan File on1st October in Brussels, when it should be agreed regarding to the judgment Sejdić – Finci. It would also mean whether B&H can submit the application for membership in the EU.
President of the RS, Milorad Dodik, stated that the survival of Bosnia and Herzegovina depends on Bosniaks, who must consider the interests of the other two constituent people – Serbs and Croats. Because if they do not do so, they will destroy B&H. Besides that, the opinion is that B&H is facing disappearance due to the imposition of political representatives.
Also, Dodik stated his commitment to reach an agreement in the Brussels on the implementation of the decision "Sejdić – Finci", although that decision does not require anything other than to eliminate discrimination in context of candidacy and that means that everyone should be able to be elected at the functions at the level of B&H.
The delay on implementation of that decision is in the impossibility of resolving the issue at the level of Federation of B&H. On the other side, the RS gave "constructive solution", which was confirmed by one of the claimants to eliminate discrimination in elections, Jakob Finci.
According to him RS is of the opinion that a member of the Presidency of Bosnia and Herzegovina from RS should be elected on elections not indirectly.
It is unacceptable the model that people of one ethnicity to elect representatives of other ethnicity. In RS are willing to accept an agreement reached by representatives of the Federation of B&H. At the meeting of the Joint Commission, which was formed at the state level and in the framework of the Council of Ministers is agreed the coordination mechanism between Serbian and Croatian ethnicity people in B&H. However, according to Dodik, that mechanism and model was not accepted by the Bosniak representatives, arguing that it is necessary to be more worked on.
RS President Milorad Dodik, said that this is a clear methodology to amend the Constitution.
Even if it is defined that the entity must give written consent to be followed by verification of previously signed agreements that entity could make at the B&H parliament.
Dodik said that RS is not against the European path of B&H and is ready to meet international obligations and that he would be happy if at the next meeting with EU Enlargement Commissioner Stefan File will be reached an agreement. This would mean that B&H could refer to submitting an application for membership, but this is not certain.
However, lately political representatives have taken different positions in regard to the judgement Sejdić – Finci, which will be explained at the meeting in Brussels on 1st October.
his is one of the conditions for the European path of B&H, but although at the previous "Brussels Agreement" they reached an agreement, the agreement was never implemented.