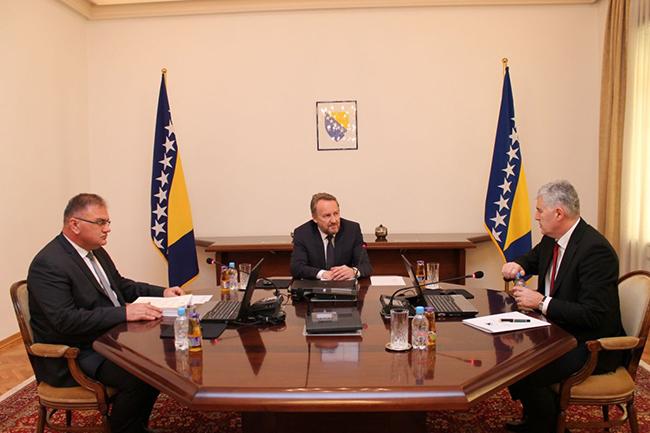 Sarajevo, July 15, 2016/ Independent Balkan Newss Agency
By Mladen Dragojlovic
BiH will continue on its path to EU membership since RS president, Milorad Dodik, eased his tough stance and agreed to an adapted Stabilization and Approachment Agreement (SAA) with the EU.
This was confirmed by the Serb member of the BiH Presidency, Mladen Ivanic, at an extraordinary press conference. He said the Presidency agreed to the adaptation of the SAA between BiH and the EU. The BiH Presidency held a session and brought a decision to adopt a report on negotiations aimed at concluding a Protocol to the SAA between the European Communities and their member states, on the one side, and BiH, on the other, in order to take into account Croatia's accession to the EU.  The BiH Presidency authorised the Head of the BiH Negotiation Delegation, Hamdo Tinjak, to sign the Protocol on behalf of BiH.
Ivanic expressed satisfaction with developments since they played out exactly as he planned a few weeks ago.
"The turning point was when the decision  to publish the results of the population census in BiH was made. Then, I consciously included RS institutions in making decisions to show to our counterparts in the FBiH that BiH cannot function on a system of over-voting", said Ivanic.
He added that the RS authorities changed their mind and accepted the SSP. For Ivanic, this is one of his greatest political victories because he showed to all sides in BiH that he will do the best to protect RS interests.
This was useful for relations in BiH. It showed that everyone in BiH, when their backs are against the wall they are able to make right decisions, said Ivanic.
He reminded that the solution to the blockade was on the horizon when members of BiH Presidency met German Chancellor Angela Merkel and discussed this issue. Ivanic added that the solution which was adopted will have consequences for the BiH economy, but not as big the country presented.
The biggest opponent to the adapted SAA was RS President, Milorad Dodik, but after meetings with German Minister of agriculture, Christian Schmidt, a few days ago, Serbian Prime Minister Aleksandar Vucic, and representatives of RS farmers associations, he and Zeljka Cvijanovic, the PM of RS, announced that the SAA can be signed.
The agreement reached with the German Minister of Agriculture, a delegate of German Chancellor Merkel, on methods to support agricultural production in BiH, primarily in RS, was the key of this decision, Dodik told reporters in Banja Luka.
The RS Government earlier rejected the SAA but the decision was changed after Germany promised to help all those who suffer any damage by the agreement.  The adapted SAA provided the special status of Croatia in the trade with BiH as it was earlier, when Croatia was member of CEFTA but not an EU country.