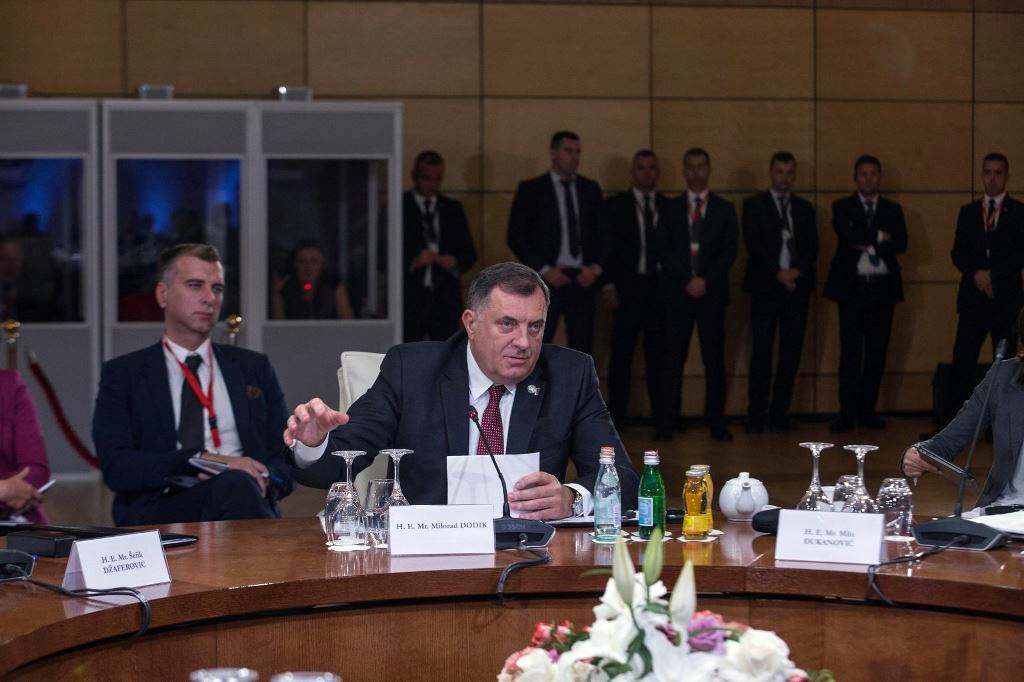 BiH Presidency Chairman, Milorad Dodik (Serb), said that he and Serbian President Aleksandar Vučić defended the Serbian positions jointly and with arguments on Thursday in Tirana.
Dodik stressed that he and Vučić were relaxed because they were able to defend together the Serbian positions in Tirana, point to stereotypes about Serbs in Republika Srpska and about Serbia and to put things into a different course using arguments.
He said that he was very satisfied that the Serbian President was very direct, that he gave open answers and defended Serbia's positions, and that he told Hashim Thaci that his place is at the talks, and that neither America nor anyone else can help him if there is no agreement with Serbia.
"We follow and support Serbia's positions. We do not recognize Kosovo, and we will not recognize it regardless of the appeals that some tried to make here. We will support the result of a dialogue the very moment Serbia says it", Dodik said.
He said that it is important that there were no idyllic stories in Tirana but that they talked about the reality. The fact is that the position not to raise certain issues has escalated after Thaci presented his already known positions.
"You know that yesterday he spoke about a unification of Kosovo and Albania. He said that if we were to do it and announce to the world that we discussed this issue and that we agreed on it, an immediate reaction would follow. Those who should have noticed such a political approach have not noticed it", Dodik said.
Regarding his dispute with the Bosniak member of BiH Presidency, Šefik Džaferović, at the summit in Tirana, Dodik has said that the inability of BiH to form authorities after the elections is visible.
"This is the worst possible message. You have democratic elections, you have people who vote in these elections and you are ignoring their will because you think that your priorities lie elsewhere", Dodik said at a joint press conference with Serbian President Aleksandar Vučić.
He has said that during the talks in Tirana, there were many open issues between BiH and Croatia and that it was clearly said that Croatia supports a reform in BiH, which means that the constitutional peoples should elect their representatives, with which Republika Srpska agrees.
"We do not have a single problem regarding this issue and the process should be accelerated, as well as with the issue of the Pelješac Bridge, because Croatia is of the opinion that it is entitled to manage this issue independently, while on the other hand there are efforts in BiH to problematize this issue. We could also hear the position of Croatian President, Kolinda Grabar Kitarović, on this issue", Dodik said.
The dispute between Dodik and Džaferović took place in the hall where the summit was held and in the presence of Serbian President Aleksandar Vučić.
Namely, Vučić asked about the progress of the negotiations in BiH, and Dodik said that the barrier is the Annual National Plan for NATO.
"They say that we have to do this in advance," Dodik told Vučić, pointing his hand at Džaferović.
Džaferović stressed that a solution from this impasse must be found, underlining that the laws must be respected. He stressed that the adoption of the Annual National Plan for membership does not automatically mean a BiH membership in NATO./ibna