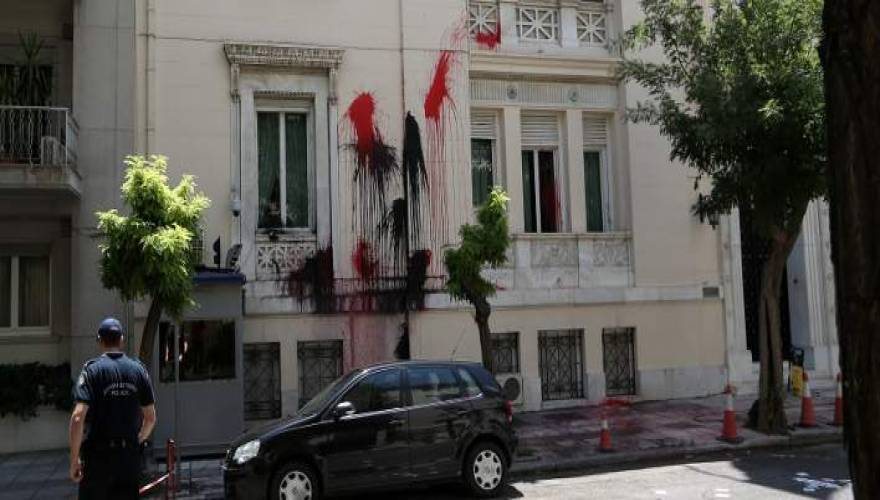 Athens, August 2, 2016/Independent Balkan News Agency
By Spiros Sideris
A document classified as "confidential – send immediately" was published in the early hours Tuesday to an anti-authoritarians website from the members of Rubicon, sent by the relevant department of the Foreign Ministry which requests the Police be informed of the attack of this particular group in the Turkish embassy on July 26.
The document has no essential value, does not contain any confidential information, other than the internal information for the action and was leaked by "another ministry", as evidenced by the stamp of the Protocol.
Team members say that in another document – which they won't publish – the embassy requested their arrest.
The members of Rubicon note further that after the intervention and since no arrest was made, the Turkish embassy asked, some time after the intervention, with an urgent message to the Foreign Ministry of Greece, the prosecution and punishment of their members.
What is interesting is the time they chose to make this irrelevant document public. Well informed sources within SYRIZA who spoke to IBNA, say this is an attempt to cause problems in the relations of Nikos Kotzias with the government, because of the announcements of "Pratto" – the political movement led by Nikos Kotzias – which with its statements supported the Citizen Protection Minister Nikos Toscas, who also belongs to the movement "Pratto".
In a statement, "Pratto" supported by Nikos Toscas' actions regarding the occupations that took place in Thessaloniki.