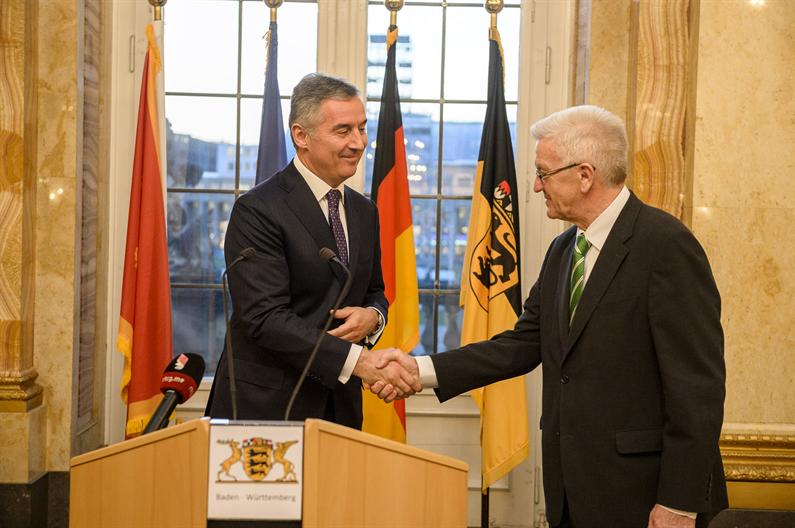 Podgorica, March 12, 2015/ Independent Balkan News Agency
By Adnan Prekic
Montenegrin Prime Minister Milo Djukanovic started his official visit to Germany and presented Montenegro's investment potential at the Stuttgart's Business Forum. Prime Minister Milo Djukanovic met with President of Baden-Württemberg Winfried Kretschmann during his official visit to Germany.
Djukanovic said that Montenegro, although small, is recognisable as an investment destination in the world. "Past investments originated from over 100 countries. For years it is at the top of the European economies when measured by the parameter of direct foreign investments in relation to population. Translated into specific figures, the net inflow of foreign investments in the last ten years was greater than 5 billion euros", Djukanovic said.
Djukanovic underlined that economic development of the Western Balkans is crucial for the democratisation of the country and its progress towards integration into European and Euro – Atlantic structures, the two strategic government's priorities which are common goals of the entire region. Montenegro is a small Western Balkan country with a bright perspective and it is proud of the fact that it is the only country in the region which stayed out of the war and war damages during the 90's.
Prime Minister of Montenegro met with President of Baden-Württemberg Winfried Kretschmann during his official visit to Germany. Württemberg's President Kretschmann commended Montenegro's progress towards the European accession, stressing that Baden-Württemberg strongly backs Montenegro in pursuing that important strategic goal. Djukanovic also thanked Mr. Kretschmann for Germany's overall support for the entire region's aspiration for the EU membership, adding that the future of Montenegro and the Western Balkans is to become part of the EU as a guarantor of stability and development.
The two officials agreed that Montenegro and Baden-Württemberg have excellent perspective for boosting economic cooperation, which is once again confirmed by the signing of the Agreement on strengthening of economic cooperation between Montenegro and Baden-Württemberg.