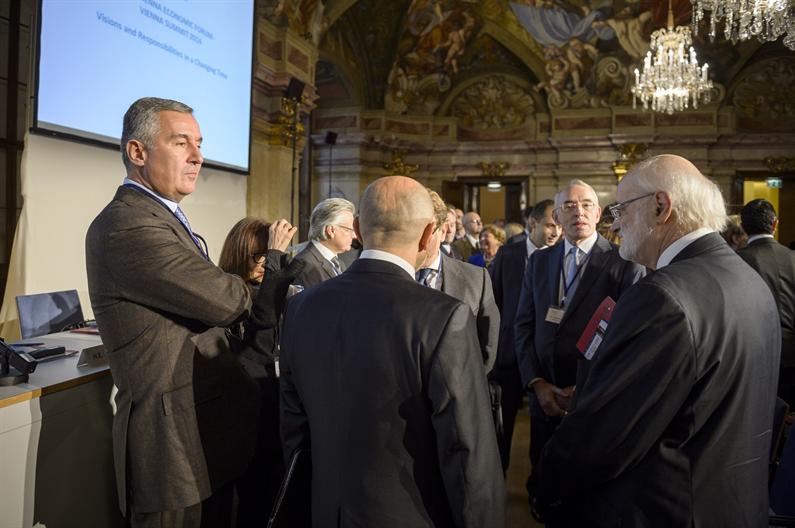 By Adnan Prekic – Podgorica
European Union's insistence on the rule of law is correct, but along with that policy, Europe should also help the economic development of the region, as these are interdependent issues, said the Montenegrin Prime Minister Milo Djukanovic at the Vienna Economic Forum. Prime Minister Djukanovic commented on the position of Montenegro in integration and economic processes, noting that Montenegro, from the least developed republic of the former Yugoslavia became a state that leads the integration process on the non-integrated part of the Western Balkans, of which the economy recorded the best indicators.
The key to Montenegro and the region, argues Djukanovic is overcoming decades of backwardness and achieving higher economic growth, for which we have the resources and initial skills, as well as knowledge necessary for catching up with the developed parts of Europe. European Union is our partner with whom we share common responsibility for the future of the European continent.
Therefore, the Western Balkan's future is largely dependent on the EU accountability in implementing policies that concerns the region Djukanovic said. He emphasised it is reasonable to insist on the rule of law as the Western Balkan's key issue and that the criteria must not be lowered.
However, the delay in this process is not indigenous product of this part of the Balkan, but it came as a result of centuries-old economic backwardness. "Commitment to challenges of the rule of law, increasing GDP and strengthening entrepreneurial culture, remain our priority. We must, as quickly as possible, reform the unsustainable pension systems, harmonise the education policy with the labour market, raise the level of health care, improve the business environment and boost competitiveness in relation to the economy of Europe", concluded the Montenegrin Prime Minister.
Austrian President Heinz Fischer said that the integration of the Balkan countries is of a mutual interest, because the clear perspective of accession is a guarantor of stability in Europe. Fischer said that the Western Balkans countries are no longer on the margins of Europe but in its heart. Despite some enlargement fatigue, he said, the accession of new states is in our and in their best interest. "What was said in Thessaloniki in 2003 is still true today. The future of the Balkans is in the EU", said Fisher.
Apart from Djukanovic, the panel will also welcome the prime ministers of Albania and FYR Macedonia, Edi Rama and Nikola Gruevski respectively, as well as the President of the EBRD, Sumo Chakrabarti.