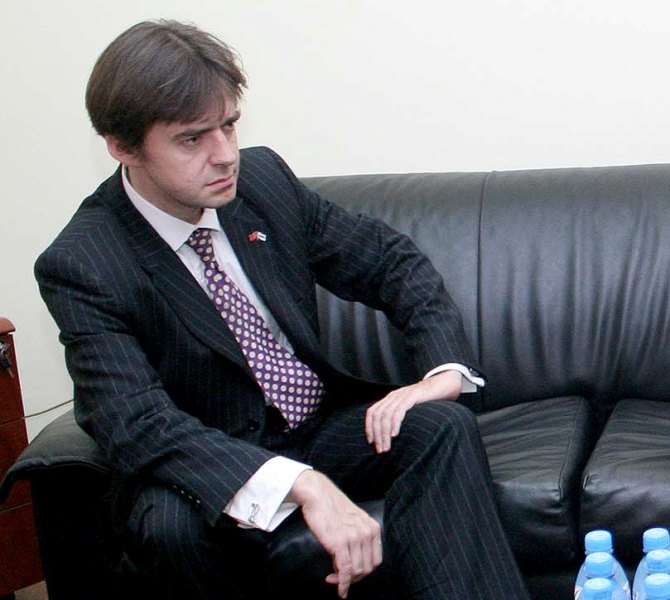 IBNA Op-Ed/ "Diversity forms part of a widely held, fundamental democratic idea that all people – whatever their ethnicity, whatever their colour, whatever their gender, their sexual orientation, whatever else makes them different from each other – all of them are fundamentally and exactly equal and all of them can make a contribution, professionally, and to their society. It is a fundamental human value, it is one that we all share, it is one that all of our countries are based on. It is a question of human rights, of the rule of law, of fundamental equality"
By Robert Wilton

Head of OSCE Presence in Albania
Great changes have taken place in Tirana, the Albanian public has great expectations. But this is also a time, I believe, when the institutions of the country are demonstrating their professionalism through continuity.
At the same time as the politicians are changing, it is up to the institutions of the country to sustain stability and the rule of law and professional standards through their own skills, their own professionalism.
That is a particular focus for the police force, of course. Part of that responsibility is the maintenance of the values and standards that all of our societies share. The need for public institutions to respect, to protect and to uphold diversity is clear. To the OSCE it is one of our core values – shared among our 57 participating States, including Albania.
Diversity forms part of a widely held, fundamental democratic idea that all people – whatever their ethnicity, whatever their colour, whatever their gender, their sexual orientation, whatever else makes them different from each other – all of them are fundamentally and exactly equal and all of them can make a contribution, professionally, and to their society. It is a fundamental human value, it is one that we all share, it is one that all of our countries are based on. It is a question of human rights, of the rule of law, of fundamental equality.
Modern societies are those where every individual is provided with equal opportunities to realize his or her own potential.
***
We have seen recently in Albania examples of challenges in society to this fundamental principle of equality. We have seen in Albania discrimination against a minority community. We have seen racism in the public sphere against a minority community. In the treatment of minority communities, in the treatment of the Lesbian Gay Bisexual and Transgender (LGBT) community, we still need to fight, we still need in the public institutions, most particularly the police, to work every day more strongly to recognize this fundamental equality and to support those communities. That means different things. It means respecting and protecting the lives of those communities as equal citizens to continue their daily lives and to fulfill their aspirations. It also means continuing within our own institutions to promote equality, regardless of any difference.
And this, again, is a value which I am obliged, required, ordered to take very seriously in my own organization, to ensure that in my own organization not only do we promote equal values in all of the work we do, but in our institution itself, in our own staff management, we uphold the same values. This is the challenge for the police forces, as well.
Discriminatory policing has the effect of criminalizing entire communities and denying them justice. In this regard, we see across the region sometimes minority communities often disproportionately subjected to racially or ethnically motivated hate crimes and discrimination. This is something which we are all obliged, all mandated to tackle.
Part of winning the trust of minority communities is about integrating them into the police force, ensuring that police forces are properly representative of the communities that they serve and, again, this is something that you know better than I. Police recruitment policies must ensure the adequate inclusion of women and minority communities. The statistics, very frankly, in Albania and in other countries of the region, show that we still have work to do to ensure the equal representation of all of the groups in society.
You know what you can get out of this week. You know the opportunity that this week represents, the opportunity to develop new skills, the opportunity to become even stronger police officers. But this week is not about simply the pushing, the imposing of lessons or standards from outside. This is not about some externally-created set of values that I or any other foreigner tries to impose. This is about a group of professionals gathering together, talking together, sharing experiences, sharing good practices and all benefiting.
I am very grateful to my teams, who have worked hard to develop the shape of this seminar. I am grateful to director Burgaj and the Albanian State Police for their partnership in building this event today and I am delighted that it has been built as a seminar, as an opportunity to share. And I would like to say once again to all of you a friendly welcome, an encouragement to busy work, to fierce discussion, fierce debate, and I wish you success this week and in the future, and I promise you the continued partnership of the Organization for Security and Co-operation in Europe.