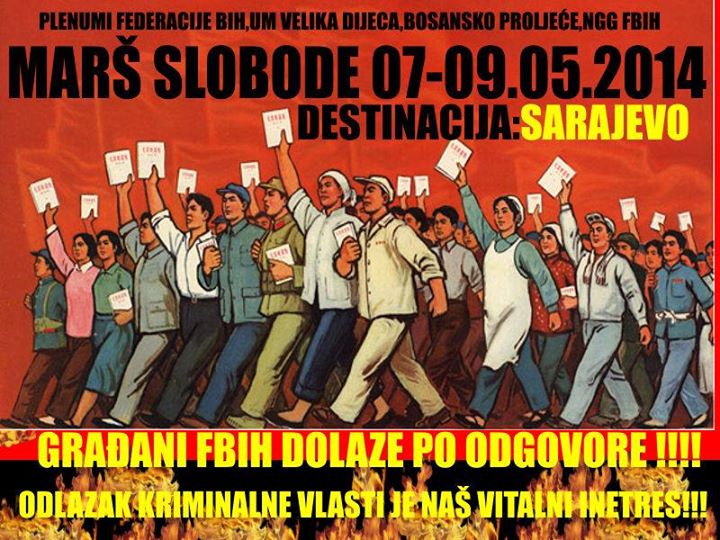 By Maja Tuljkovic – Sarajevo
More than a hundred citizens, including the participants of the Plenums from the entire Federation of Bosnia and Herzegovina departed yesterday on foot on the direction of the capital city of B&H, to participate on the "March of Freedom – Path with No Return". Their goal is that everyone gathers in Sarajevo on May 9, at 11:55 in front of FB&H Parliament. The gathering on May 9, known as the Victory day, has a symbolic meaning. They require from FB&H government to resign.
The group that has departed yesterday from Tuzla, has crossed 55 kilometres during the first day. They slept in Montana, near the mountain saddle Karaula. In addition, citizens of Zenica have departed yesterday toward Sarajevo, at 12:00, who were joined by citizens of Fojnica, Bugojno and Zavidovići. Their intention is to meet in Semizovac, near Sarajevo.
Members of the Sarajevo Plenum will welcome them and the organizers confirmed that they expect the arrival of a group of academics who have organised a group in the United Kingdom that supports the plenums. In addition to them, a large number of citizens from distant places will come to Sarajevo by cars, busses and trains, to participate in protests, which aim the dismissal of FB&H government. One of the organizers and the most persistent member of protests in Sarajevo, Drenko Koristović, said that everyone will get together tomorrow and their intention is to stay in Sarajevo until their requests get fulfilled.
The protestors also demand the suspension of the criminal charges for all those who were arrested for participating in the protests, the immediate suspension of all privatization processes and the sale of public goods. They note that the judicial process on criminal privatization is being preceded for many years in courts and prosecutors' offices and many issues have been postponed for years. Among their demands is also the prosecution of those who have contributed to the fact that the issue of criminal privatization has been prolonged in courts for so many years.
They point out that the governing structures need to know that people can not wait anymore and they will not give up and the protests will last until their requests are fulfilled. Upon the arrival of the protestors in Sarajevo, one of the demands will be a public debate with members of the FB&H Parliament and the FB&H Government.