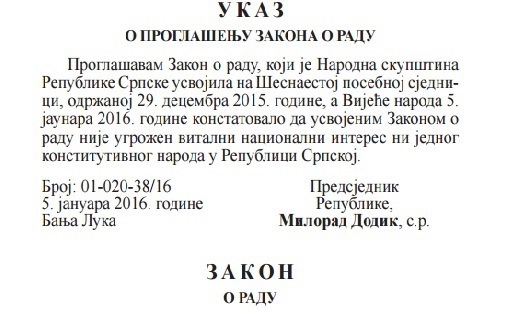 Banja Luka, January 13, 2016/Independent Balkan News Agency
By Mladen Dragojlovic
One of the most disputed laws in RS, the new Labour Law, was signed by RS President, Milorad Dodik, and published in the Official Gazette of RS. It means that this law will come into power next week, despite the appeals from RS Trade Union Association.
Discussion and adoption of this law in RS National Assembly was followed by the heaviest Trade Union demonstrations in RS history. Several thousand workers, leaded by RS Trade Union Association president, Ranka Misic, demonstrated in the front of RSNA building. She was in the Assembly Hall and, at the end of the discussion created an incident and was brought out by security. Misic and other Trade Union leaders urged on president Dodik not to sign the decree but he didn't listen to their demands.
The new Labour Law provides more reasons to employers to fire employee. Compared with the Law which is still in effect for next few days, the new law increased the number of allowed overtime working hours to 180 per year. The break will remain to be paid, workers will have the right on at least 20 working days for holidays and an increment will be provided by Collective Agreement. Salary increment for past work will be in amount of 0.3 percent per year. The new law also provides several solutions for the protection of pregnant women workers.
Director of RS Union of employers, Sasha Acic, said to the media that the members of the Union are not fully satisfied with this new Law.
"The incorporation of the provisions of the canceled General Collective Agreement in the Labour Law caused the poor quality of this Law. Also questionable is the implementation of a significant part of the provisions of the Labour Act, particularly in the part related to salaries, allowances and other benefits. Some negative effects, thus contemplated regulations, the development of collective bargaining and social dialogue in general. The Law has a few provisions that will have positive effects, but generally we believe that the law will not significantly improve conditions for business, and have an effect in terms of changing relations between the workers and the population towards work and work habits, Acic said.
RS Trade Union Association president, Ranka Misic, said for business portal Capital.ba that she didn't see the final version of the law and she cannot comment on it. But she added that Trade Union didn't participate in the creation of this Law because the working version of law was against workers rights.
On the other hand, RS Minister of work, Milenko Savanovic, said that this Law is the food and promotes the workers' rights.
"Along with other positive solutions in the new Law, we also kept a social component through past work increment of salary and paid break. I think that's very important", Savanovic said.