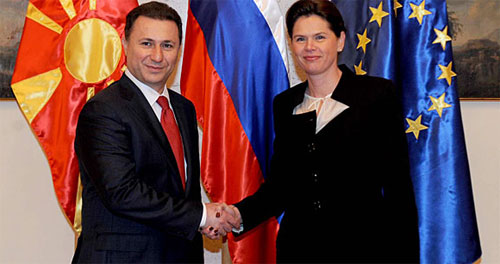 Brdo, Slovenia, November 13, 2013
Slovenia will strongly support the integration of FYR Macedonia, but Western Balkan too in the European Union and NATO.
This message was launched on Wednesday by Slovenian prime minister, Alenka Bratushek in the meeting held in Brdo of Kranja in Slovenia with the prime minister of FYR Macedonia, Nikola Gruevski.
"Slovenia supports and will support Skopje and the rest of Balkan in its endeavor to get closer to the EU", declared after the meeting the Slovenian prime minister.
Prime Minister Gruevski declared that Skopje sees Slovenia as a sincere supporter in the domain of European and Euro Atlantic cooperation.
He added that Slovenia is a partner in the aspect of cooperation in all domains of mutual interest, such as economy, trade and development of investment opportunities.
"In this aspect, I reiterated our primary scope for accession in the EU and NATO as our basic commitments. This is testified by the five consecutive reports which recommend the start of negotiations for EU accession. I expressed my hope that our engagements and the realization of reforms in meeting the criteria will be materialized with the opening of negotiations", declared premier Gruevski.
According to him, the only open issue that prevents Skopje is the name dispute with Greece, a problem, which according to him, was started by the southern neighbor 20 years ago.
Mr. Gruevski said that the start of negotiations will have positive effects for the citizens of FYROM and for the stabilization and development of the region and will have an impact on the credibility of the process of EU enlargement.
In the framework of the official visit to Slovenia, Gruevski will also meet today with the president of Slovenia, Borut Pahor and speaker of parliament, Janko Veber. /ibna/