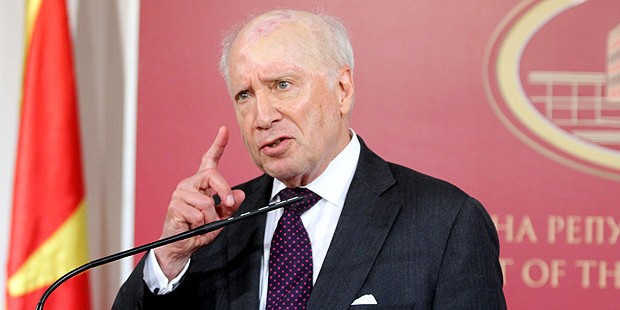 Skopje, July 29, 2014/Independent Balkan News Agency
The name dispute issue for the country which is currently known as the Republic of Macedonia and FYROM (Former Yugoslav Republic of Macedonia) in general throughout the world, is seen as a topic which involves not only Skopje and Athens, but many other countries.
UNO negotiator for the issue of the name dispute, Matthew Nimetz, made this claim today by pressing for the issue to be resolved as soon as possible.
Mr. Nimetz made these comments at the government headquarters in Skopje, following an agenda of talks with senior officials of the country, including prime minister Nikola Gruevski.
"Macedonia's name dispute is an issue that affects many countries, including USA and Germany and many countries want to see it resolved due to world developments. Problems must not persist, but they must be tackled in time", declared Mr. Nimetz.
UNO negotiator said that he praises the interest that German chancellor Angela Merkel has shown for the solution of the name dispute and said that many countries are interested in the stability of the Balkan region.
On the other hand, Mr. Nimetz said that UNO is not negotiating the identity of people, but the dispute between two countries.
"People have their own identity and this is not negotiable. They have built their own cultures", said Nimetz, in response to the question if the identity is an issue which can be discussed, as the media had quoted the German chancellor, Angela Merkel to have said.
Nimetz considered the talks with prime minister Gruevski as constructive and said that he hopes that Greece will show the same approach.
In Skopje, Nimetz met with president George Ivanov, Foreign Minister Nikola Poposki and the new representative of Skopje in the talks for the name dispute, Vasko Naumovski.
After the agenda of meetings in Skopje, Mr. Nimetz is expected to meet on Wednesday with Greek senior officials in Athens. /ibna/