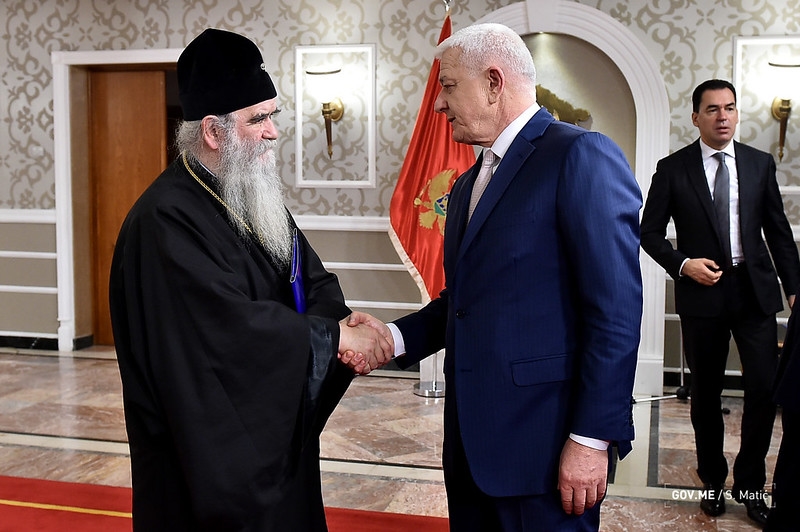 The Prime Minister of Montenegro, Duško Marković, and the delegation of the Metropolitanate of Montenegro and the Littoral and other dioceses of the Serbian Orthodox Church in Montenegro discussed today in Podgorica the Law on Freedom of Religion or Belief and the legal Status of Religious Communities.
"The meeting was concluded in a spirit of mutual respect, with the assessment by both parties that it was conducted in a constructive and open atmosphere. Both parties fully expressed their views on outstanding issues related to the law. The Serbian Orthodox Church kept the attitude that changes of the law must be discussed, but not its implementation since it is not in accordance with the Constitution or international standards. The Government believes that, through dialogue and mutual trust, as well as by providing additional and appropriate guarantees, this law can be applied as a modern law harmonized with the Constitution and European standards," the Government of Montenegro said in a statement.
Representatives of the Episcopal Council of the SOC, led by Metropolitan Amfilohije (Radović), submitted to the Government a proposal to amend the provisions that the Church sees as controversial. The Government took note of this initiative, assessing that a comprehensive look at not only this law, but also other options offered by the legal system, was required to answer this question.
"It has been agreed that the talks will continue at the level of experts", the statement concluded.
Talking about the law, Montenegrin President Milo Đukanović said in an interview for the French Press that Montenegro must have its own Orthodox Church in order to consolidate its national identity and oppose interference from Serbia.
He said that the Serbian Orthodox Church (SPC) is one of the important instruments used by the ideologists of Greater Serbia nationalism against Montenegro, against its independence, its national, cultural and religious identity.
"The SOC uses a skilful form of manipulation to force people to believe that the state wants to take away their holy relics," Đukanović said.
He added that state-controlled churches will continue to receive Orthodox believers.
"The SOC is trying to use believers as a way of pressuring the state to withdraw the law or to force it to capitulate. That is unacceptable", Đukanović pointed out./ibna