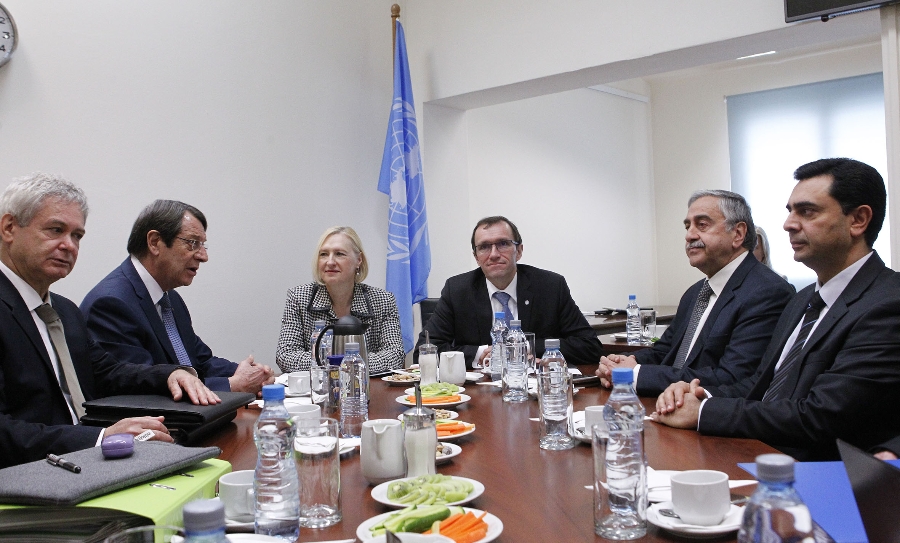 The new Conference for Cyprus in Geneva will possibly take place after March 13, the President of the Republic of Cyprus, Nicos Anastasiades, said today.
In his remarks to reporters after his return at the Presidential Palace from the site where the talks on the Cyprus problem take place, the President of the Republic said that "the two interlocutors have moved forward and prepared the convergences: the slightest divergences, the big divergences. On the basis of this preparation we have begun the dialogue in order to see how more of the differences are transformed into convergences.
Today, we began with the issue of governance. I must say that there was relative progress; and there is of course still a lot of work to be done.
I should state that the discussion will be conducted in a cross-subject manner on the various chapters, so that on the basis of everything that has been also agreed in the past, to achieve the biggest possible convergences before the Conference on Cyprus."
Replying to a question whether the UN Secretary-General's Special Adviser on Cyprus, Espen Barth Eide, has briefed the leaders today on his recent meetings with the guarantor powers, the President said that he has.
In response to a question as to whether we have some picture about these meetings, he said that "the general picture is that the intention of the involved parties is for a solution to be reached as soon as possible. But this will become apparent at the negotiating table, so that we don't content ourselves on the basis of various assurances."
Asked whether a date for the new Conference on Cyprus in Geneva has been set, the President said that "it will possibly take place after 13 March."/IBNA
Photo: pio.gov.cy