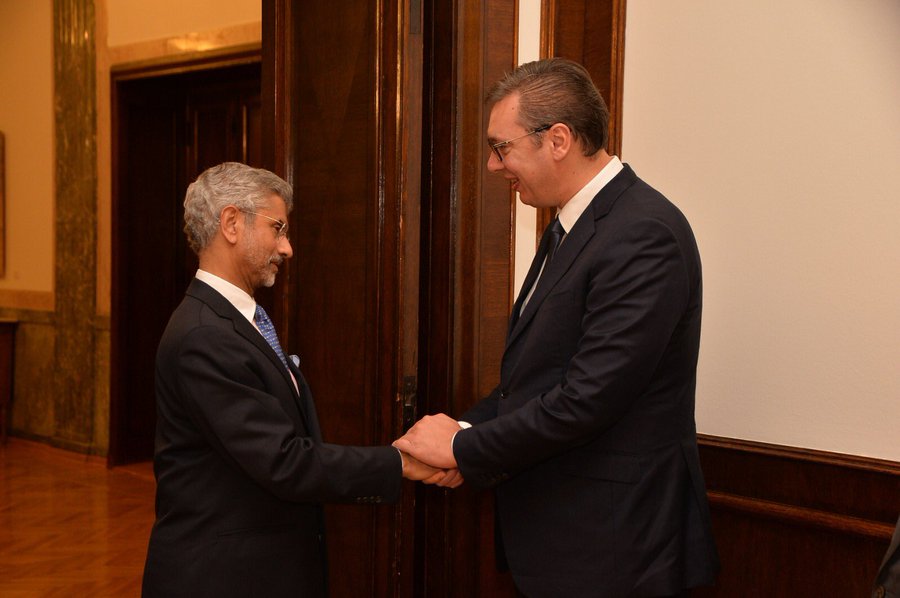 Serbian President Aleksandar Vucic met today with the Indian Minister of Foreign Affairs Subrahmanyam Jaishankar and discussed issues of bilateral relations and economic co-operation.
Aleksandar Vucic expressed his gratitude for India's position to not recognize Kosovo's unilateral declaration of independence and to respect Serbia's sovereignty and territorial integrity.
More than 70 companies from India are already operating in Serbia, and there is firm interest from other companies to invest heavily in agriculture, IT and tourism.
"The abolition of visa requirements for Indian citizens has led to a significant increase in the number of Indian tourists in Serbia", President Vucic commented.
As the Serbian President underlined, this visit is of particular importance, since it comprises the first visit of the Indian Minister of Foreign Affairs after more than two decades, noting that Serbia is proud of the fact that the two countries have a long tradition of mutual relations.
Aleksandar Vucic congratulated the Indian Foreign Minister on the 150th Jubilee of the birth of Mahatma Gandhi, one of the most important political leaders and thinkers who has significantly influenced international relations in recent years.
Serbia's President has invited the Indian Prime Minister Narendra Modi to visit the country.
For his part, Mr. Jaishankar stressed that further comprehensive development of economic cooperation, through the promotion of trade and investment collaborations, constitutes one of the priorities regarding the relations between the two countries.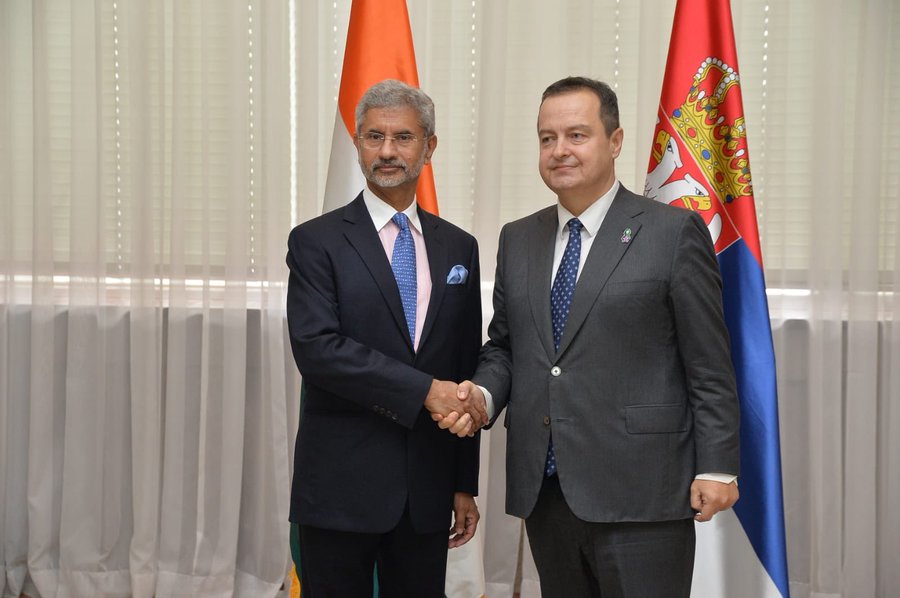 Dacic and Djaishankar met
Earlier, the Indian Minister of Foreign Affairs was welcomed by his Serbian counterpart Ivica Dacic, with the two reaffirming the traditionally sound relations between the two countries since the time of the Communist movement.
The Serbian Minister of Foreign Affairs stressed the need to expand these relations in all areas, regardless of the size differences between India and Serbia.
The Indian Minister of Foreign Affairs also stated that there was great support between the two countries on an international level and in the vote of international organizations. "We support each other instinctively", Djaishankar added.
Dacic stressed that Serbia is very grateful to India for all this, including its support on the issue of Kosovo and Metohija, while recalling that Serbia keeps the same attitude towards Kashmir.
Dacic noted that there is great potential in bilateral trade and economic co-operation, so that within the next five years transactions could reach $ 1 billion, compared to the current $ 180-million budget.
The Serbian Foreign Minister considers it important to further improve cooperation in the field of pharmaceutics, information technology and defense, while announcing that India will be present at the Novi Sad Agricultural Exhibition, while the India-Europe forum will follow.
For his part, Djaishankar pointed out that Serbia comprises the leader of economic development in the region and Indian companies are interested in investing in this part of the world. /ibna