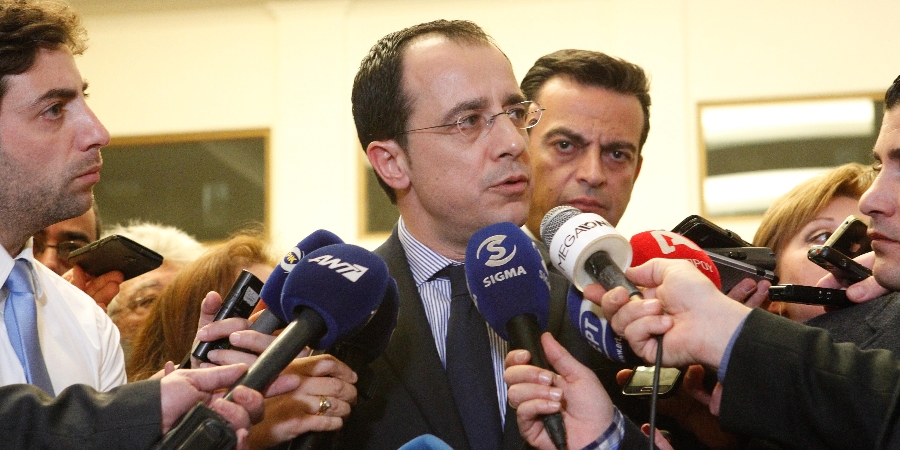 President of the Republic of Cyprus Nicos Anastasiades and Turkish Cypriot leader Mustafa Akinci will be meeting later this afternoon in Geneva, for a presentation on behalf of the negotiators of their discussions on governance, followed by talks on the chapter of territory and an exchange of maps, Government Spokesman Nikos Christodoulides has said.
He noted that "each side will submit its own map", noting that they will be examined by experts, whether that "correspond to what has been agreed between the two leaders. Afterwards, the maps will be kept by the United Nations. "
Asked whether if current positions are maintained there will be an attempt to shrink the difference during the presentation of the maps, the Government Spokesman said that "the criticality of the moments, because previously I spoke of the need for accountability by all, does not allow me to answer this hypothetical apposite question. We should wait to see how thing unfold and accordingly to make sure that we have several options on how to behave".
Christodoulides also said that the leaders of the two communities, namely President Anastasiades and Akinci, discussed governance and property issues, and that there was some progress on certain governance aspects, such as amendments to the constitution, while on other issues clear guidelines have been given to the experts who will work all afternoon to achieve greater progress.
More specifically on the issue of constitutional change, Mr. Christodoulides said that "the way has been agreed, in which the Constitution will be amended. It was one of the outstanding issues of governance that was discussed yesterday and today there has been progress", the government spokesman said, adding that it is "an issue in which there has been convergence".
Asked if the issue of the rotation of presidency was discussed, Christodoulides said that "the issue was discussed on the first day, there was a dispute and the subject has remained there. There hasn't been any further discussion".
Asked if there is a possibility of the presentation of alternative maps, the Government Spokesman said that such a thing is not provided in the agreed procedure.
Invited to say whether the discussion on the Territorial issue ends tonight, the Government Spokesman replied that "it depends on the results".
Asked about tomorrow's conference for Cyprus, Christodoulides said that "the conference will deal with a single issue: The issue of Security and Guarantees. There is no other issue on the agenda, nor is there scheduled tomorrow any meeting to discuss other aspects of the Cyprus issue, beyond the chapter of Security and Guarantees".
Furthermore, Christodoulides called on the press to be exceptionally wary of those who wish to exploit the situation in Geneva to create obstacles in the efforts to solve the Cyprus problem./IBNA
Photo: pio.gov.cy