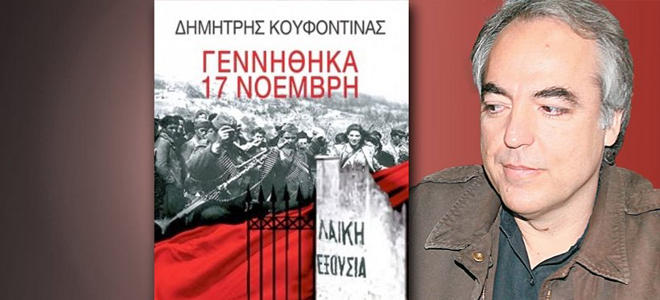 By Manolis Kostidis – Ankara
The Embassy of Turkey in Greece expressed its strong disapproval for the presentation of the book of a man sentenced to life imprisonment for his action in the terrorist organization "November 17".
The press release from the embassy says:
"The Embassy of the Republic of Turkey in Athens expresses its strong disapproval and deep regret regarding the event held by the School of Economic and Political Sciences at the Athens Law School on 27 June 2014, to introduce the book written by a convicted 17 November terrorist, Dimitris Koufontinas, who was given the opportunity to contribute by phone from prison.
It is disappointing that the event was organised at a school of law, which, instead of presenting itself as a platform for convicted terrorists, should focus on how to better educate students that reject all forms of terrorism.
This event has nothing to do with academic freedom and is nothing more than the twisted glorification of terrorist activities. The event was an effort, for a convicted murderer, aiming at the promotion of a book praising a terrorist organization which, among other crimes, murdered and attacked members of the Turkish Embassy in the past. It is saddening to see that the members of this organization have not been corrected and can even find a platform in universities, continuing to spread their poison to young minds".
Dimitris Koufodinas was a member of November 17 and surrendered himself to the Counterterrorism Service on September 5, 2002, following the arrest of Savvas Xiros, member of the same terrorist organization.
Koufodinas assumed full political responsibility for the action of November 17. He was charged with 200 offenses in 84 actions, including murder, committed as a member of a terrorist organization, since the early 1983. Among the victims were Ömer Haluk Sipahioğlu and Çetin Görgü, both Turkish diplomats. He was first sentenced to 13 life terms and 25 years in prison, while the appeals court reduced the sentence to 11 life terms and 25 years in prison.
The presentation of the book took place in a hall of the Athens Law School after permission was granted by the deanery of the co-located School of Economics and Political Science.
The Dean of the Law School reacted strongly, saying that "the dean and the deanery of the Law School express their strong dissatisfaction with this action, which is suffering both at process level, and academic ethics".