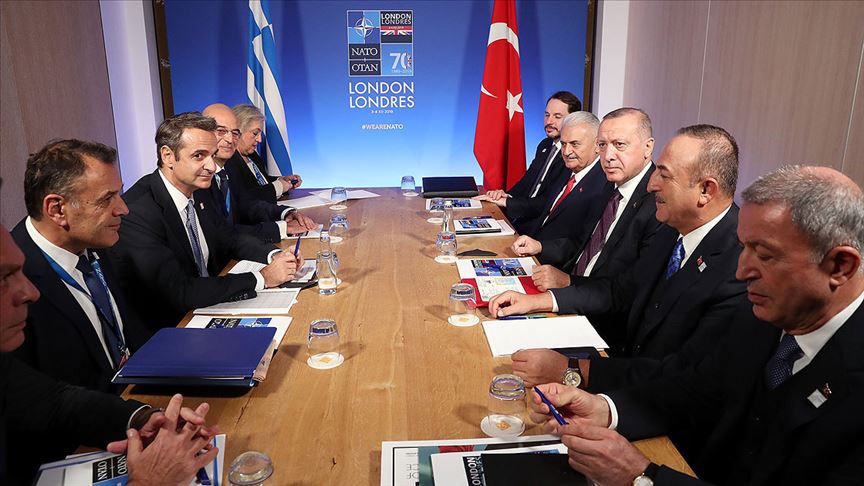 Greek Prime Minister Kyriakos Mitsotakis' on-camera statements, shortly after his meeting with Turkish President Recep Tayyip Erdogan as part of the NATO Summit in London, have turned some head.
The 1-hour long meeting was attended by the Greek Minister of Foreign Affairs Nikos Dendias; of Defense, Nikos Panagiotopoulos; the Director of the Diplomatic Bureau of the Prime Minister's Office, Alexandra Papadopoulou; the Security Advisor to the Prime Minister, Alexandros Diakopoulos. From the Turkish side, the delegation consisted of the Minister of Foreign Affairs, Mevlut Cavusoglu; of Defense, Hulusi Akar; Economy and Finance, Berat Albayrak; and National Assembly President, Binali Yildirim.
The scarce information that has been disclosed from the meeting are rather disappointing in regard to the effort for common ground and understanding to be reached between the two leaders.
What is striking, however, is that Kyriakos Mitsotakis, through his statements, discloses that Minister of Foreign Affairs Nikos Dendias will convene the Supreme Council of Foreign Affairs, following the Greek Prime Minister's mandate, which raises questions around the timing of such a decision.
Mitsotakis' full statement:
"We held an open discussion with the Turkish President Tayyip Erdogan.
I brought to the table all the issues arising from the latest Turkish actions.
Disagreements from both sides were recorded. However, both agreed to continue discussions on the Ministry of Defense's confidence-building measures.
I have instructed the Minister of Foreign Affairs to convene the Supreme Council on Foreign Affairs, in order to provide briefing to the political parties.
I want to assure the Greek people that the difficulties in relation to Turkey have been and always will be there. My take is that, as long as both sides show willingness, those barriers can finally be overcome". /ibna