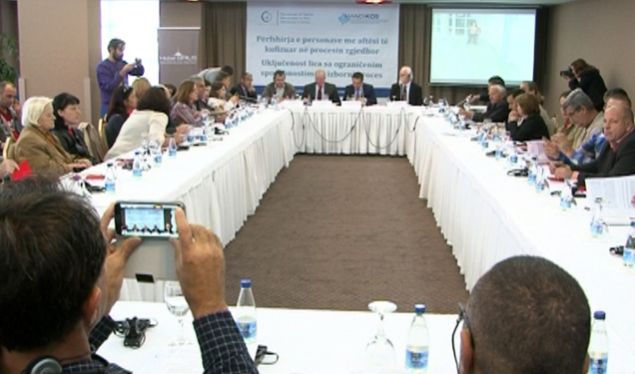 IBNA Special Report
Pristina, September 30, 2014/ Independent Balkan News Agency
By Elton Tota
The results of a study called "Involvement of disabled people in the election process" were published today in a news conference delivered in Pristina.
Participants in this conference said that disabled people must have a say not only in the process, but also in the monitoring of the elections and decision making processes in Kosovo.
Based on this report, Central Election Commission (CEC) doesn't possess any data base of voters with disabilities and according to the report, this makes it harder to promote the participation of disabled people in the elections. Head of USAID in Kosovo, Chris Edwards said that the findings of this report have indicated that Kosovo must still face numerous challenges as far as disabled people are concerned.
Meanwhile, Alan Wall, head of International Foundation for Electoral Systems (IFES), said that disabled people need an equal access, but according to him, in many cases, disabled people have not been able to access polling centers.
Meanwhile, Valbona Murati from the HandiKOS, said that this is the first project which is being organized in Kosovo and according to her, only two political parties (AAK and Self Determination) have had disabled persons as candidates for the parliament of Kosovo.
Meanwhile, Osman Shatri, representative of HandiKOS said that disabled people have shown that they can work as much as the others, especially during the monitoring of elections.
This report has also been supported by USAID and it's been prepared in cooperation with Democracy in Action and HandiKOS.
Based on article 12 of the law on professional training and employment of disabled people, state administration authorities, employers of private and public sector and NGOs are obliged to employ one disabled person for every 50 persons. /ibna/