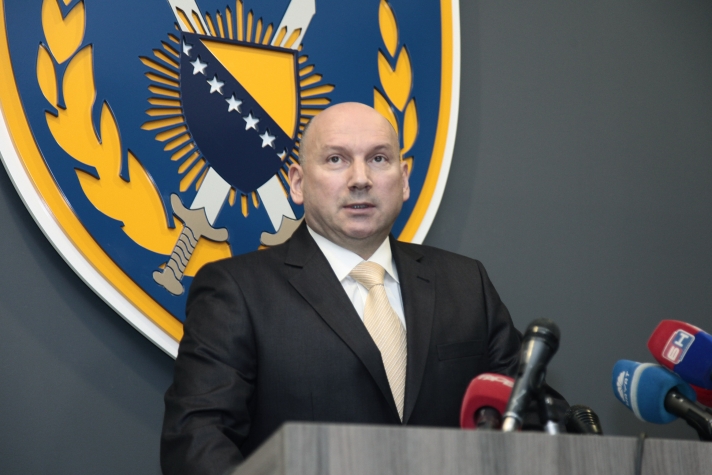 By Liljana Meshaj – Sarajevo
The culmination of protests throughout the country in February of this year was the 7th of February when buildings of the institutions of Bosnia and Herzegovina were attacked and burned (all levels), a large number of police officers were injured, while a large number of official vehicles were burned and destroyed in addition to the damaged public property.
Unfortunately, during these events it was proved that there is no system in the B&H institutions bound to react to such events so no state agency or the police stepped up in defense of the institutions of B&H nor in defense of the Presidency building of B&H, which was burned and destroyed the state archive causing irreversible damage.
Finally, four months later, after an investigation on official's malpractice, State Prosecutor Miroslav Markovic has filed charges against Director of BIH SIPA, Goran Zubac.
If the Court of Bosnia and Herzegovina confirms the charge, the first man of the State Investigation and Protection Agency (SIPA), Goran Zubac will sit on the defendant chair.
Zubac is charged that during the demonstrations during which the people requested a violent change of the constitutional order of B&H and attacked the institutions of Bosnia and Herzegovina, he did not comply with the law obligations of police authorities to cooperate with the Directorate for Coordination of Police Bodies. Directorate for Coordination of Police Bodies demanded from Goran Zubac to activate a special police unit to protect the state institutions; something he refused to do.
If Goran Zubac is found guilty he faces a sentence of one to ten years in prison.
Vice Chairman of the Joint Commission for Defense and Security of Parliamentary Assembly, Sefik Džaferović said: Director of state agency for investigation and protection Goran Zubac must be suspended after the indictment against him as required by the rules of the service".