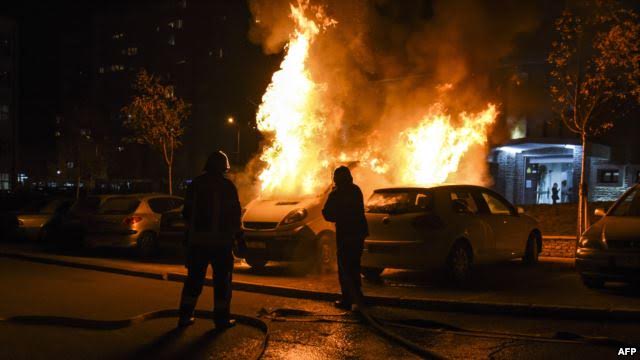 Pristina, 19 November 2015/Independent Balkan News Agency
By Elton Tota
Embassies of the Unites States of America, France, Germany, Italy and United Kingdom have issued a joint statement condemning the constant use of violence by the opposition to attain political objectives.
These embassies accredited in Kosovo, appeal for the rule of law to be respected along with democratic procedures and international standards.
"Political violence is unacceptable and damages the interests of the citizens of Kosovo and the international image of Kosovo", says the joint statement sent by the US embassy in Pristina.
"We congratulate police of Kosovo for the professionalism that has been demonstrated  and we would like to stress the importance of obeying the law by all sides", the statement says.
International representatives have closely followed the recent developments in parliament and on the streets and have appealed for disagreements to be solved through dialogue and not violence.
President Jahjaga: Political crisis can be solved only through dialogue
The president of Kosovo, Atifete Jahjaga has also reacted about yesterday's protests. Jahjaga said that the events taken place in the squares and streets of Pristina are damaging law and order and threatening the life of the citizens.
"Violence against police and the destruction of private and public properties, cannot be justified. Law and order must rule and the capital must go back to normality. Citizens of Kosovo cannot live under an abnormal situation which is ruling the country", Jahjaga said.
According to her, the political crisis can only be solved through dialogue between political forces in the country.
"Dialogue and institutions are the only way to overcome the current situation and we must all work together in preventing every further escalation of the situation", says the president's reaction.
After the opposition started to prevent normal parliamentary proceedings, the president held a number of meetings with political leaders in the country in the month of October.
Jahjaga sent the agreement on the Association of Serb Communes to the Constitutional Court in order for this court to assess its validity. Meanwhile, the court decided to temporarily suspend the agreement.
Opposition continues its protests
Opposition parties are expected to hold a protest today. The spokesman of the Alliance for the Future of Kosovo, Muharrem Nitaj said that the protests will continue until their MP, Donika Kadaj Bujupi is released.
Meanwhile, spokesman of Self Determination, Frasher Krasniqi said that it's still not known what the opposition will do today.
"The three opposition parties will meet today to decide on what will happen. We still don't have any information as to whether there will be a protest", Krasniqi said.  /ibna/