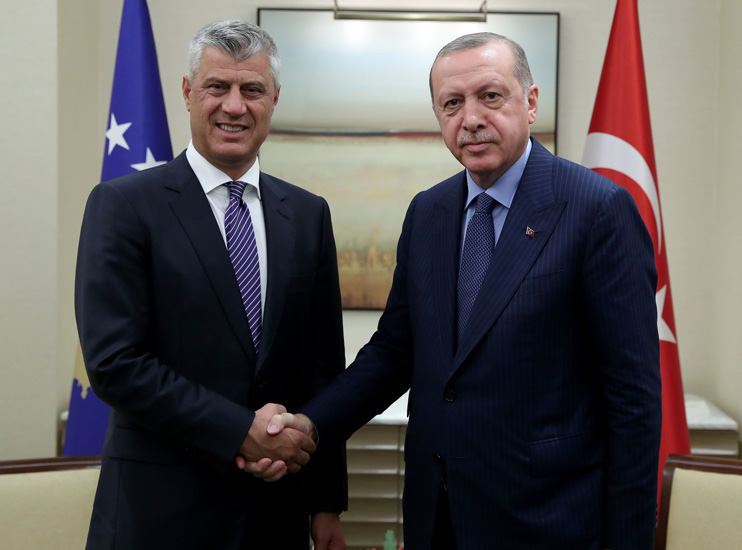 Turkey is getting down business so that more countries recognise Kosovo.
This promise was made by Turkish President Recep Tayyip Erdoğan to his counterpart of Kosovo, Hashim Thaçi, during their meeting in New York, on the sidelines of the 73rd UN General Assembly. Erdoğan promised that Turkish diplomacy will launch a campaign on two levels. Firstly, Turkish diplomacy will try to break the trend of withdrawal of recognitionof some countries that are faltering and secondly will seek to persuade other countries to advance their recognition of Kosovo.
The number of states that have already recognised Kosovo is not officially clarified, as some small ones, members of the UN, have withdrawn recognition in the last two years. Pristina speaks of 114 countries, but in the list it has submitted there are also four countries that have not officially recognised it yet, as well as some who have withdrawn their recognition. On the other hand, Belgrade argues that the countries that have recognised Kosovo's unilaterally declared independence do not exceed 108 while – as the Serbian Foreign Ministry has announced – other countries are also in the process of canceling recognition by the end of 2018.
At his meeting with Thaçi, Erdoğan, has been in favour of further talks between Belgrade and Pristina and promised to use his influence on Serbia's political leadership in normalising relations between the two countries and signing a legally binding agreement between Serbia and Kosovo.
Another important issue that was discussed during that meeting was the inclusion of Kosovo in international organisations.
The Turkish president said diplomatic pressure from the Turkish side would be put to that end, and he expressed his optimism that soon there will be results with Kosovo's accession into Interpol…. / IBNA