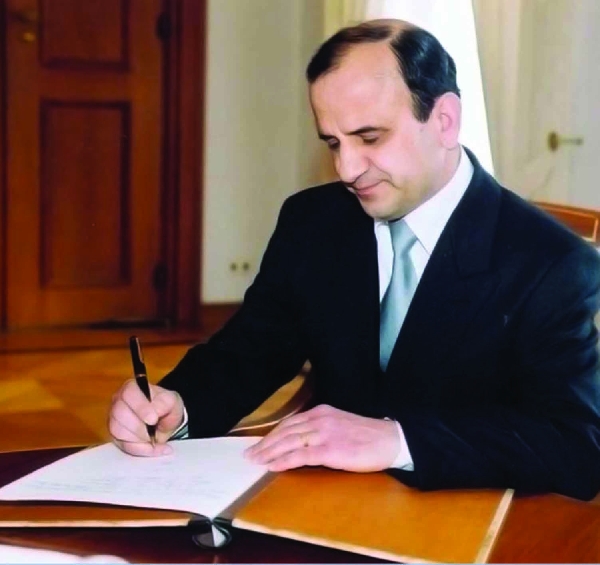 Tirana, May 8, 2014/Independent Balkan News Agency
Diplomacy is often wrongly mistaken with foreign policy. In other cases, especially by fellow countrymen, the activity of an embassy is restricted or confused with the consular service, something which is very important, but not the only one. There are others who only think of the privileges and favors of the diplomat, but not the family and human sacrifices. During their visits in the Albanian diplomatic centers, many people, and especially young people, have been surprised when they've seen that the diplomat deals with simple and technical things, such as the drafting of Verbal Notes, to secure transport from and to the airport, hotel bookings and other similar routine activities.
On the other hand, the rapid changes and developments that have taken place in diplomacy have grown the desire, curiosity and need to know more on this domain which is still not well known. In Albania, this is even more necessary, especially for young  people, journalists, opinion makers, etc.
Misunderstanding or misinterpretation of different phenomena in this domain which is a very sensitive one, bears consequences for society, diplomacy and public opinion.
In the world, there are decent publications from local prominent authors and translations of international literature, nevertheless, they belong to a sophisticated and academic level. Thus, they can only be "digested" by a particular category of professionals.
***
The prominent diplomat, Dr. Jorgji Kote has worked in the foreign service for 35 years. He's a career diplomat and currently works as a diplomatic advisor in the Albanian embassy in Brussels. Nonetheless, Kote says that although diplomacy encounters more and more daily activities, there's still a lack of knowledge on this.
All of these and other factors, the long experience in this field, have provided Mr. Kote with the right energy to embark on this difficult enterprise.
Dr. Kote has worked in order to publish the book "Diplomacy for everyone". This book is a book for everyone who's interested on diplomacy, regardless of the profession or status.
Dr.  Jorgji Kote stresses the importance that diplomacy has today for a country like Albania, which aspires to become an EU member.
"What counts today is the diplomacy of culture, economy, public and media. We're a small country, we're a NATO member, an EU potential candidate, but nevertheless, this is Albania. Our greatest possibilities consist on traditions, public values which we can "export" to Europe", says Dr. Kote for IBNA.
He explains that he considers this publication as a "food for the thought", "a manual or a guide", practical for all ages, classes and professions.
Addressing an unlimited audience, the author's aim has been for the book to be read and "digested" as easily as possible. "I'm a real opponent of long and complicated articles or publications, of an "ex katedra" type, because in many cases, instead of helping the reader to understand the problem, this complicates it even more", says Kote.
Meanwhile, based on the diplomatic status, the author has remained far from political evaluations of every kind about the concrete aspects of by or multilateral relations, or party analyses and analyses on specific people. "In stead of this, I have stopped on observations, phenomena, concerns and their known consequences", says he.
Academics talk
Dr Tonin Gjuraj, rector in a private university in Tirana, praises Kote's publication by stressing the role that cultural and economic diplomacy has taken today.
"Dr. Kote has given us a valuable book, a practical manual which can benefit not only to students of International Relations, but a wider spectrum, because Kote has very well explained issues of official diplomacy and its main routes. The author has managed to dedicate a special place to economic and public diplomacy", says Gjuraj.
Prof. Ksenofon Krisafi, known academic, says that "Diplomacy for Everone" combines publicist style with the scientific one, narration and memoralistic which have given the book very interesting values.
"The object of this publication is to explain and treat what the author calls "diplomacy to the power of six": official, economic, parliamentary, public, cultural and civic diplomacy and their combination with integral diplomacy or multi lane diplomacy", says Kristafi.
Dr. Jorgji Kote was born in 1952 in Tirana. He graduated in foreign languages and economics at the University of Tirana; he has carried out different specializations in USA, Austria, etc. Besides teaching, he has worked for a long time as an expert and director at the former Ministry of Foreign Trade; for the past 17 years, he has worked at the Foreign Ministry in Tirana as an advisor and Advisor Minister at the EU Mission in Brussels and in our Embassy in Berlin. He continues his work as an advisor in our embassy in Brussels. He's a very good English interpreter and author of tens of articles. 'Diplomacy for everyone" is the first practical manual of this kind for everyone who is interested, regardless of the age, class and profession; it helps in understanding, evaluating and "walking" in the six lanes of today's diplomacy-official, economic, parliamentary, public, cultural and civic. Other publications by this author: "Glossary of the World Bank on Economy and Finance", 'Berlin without Walls", "Phraseological Dictionary for Diplomacy", "In self surrounding". /ibna/