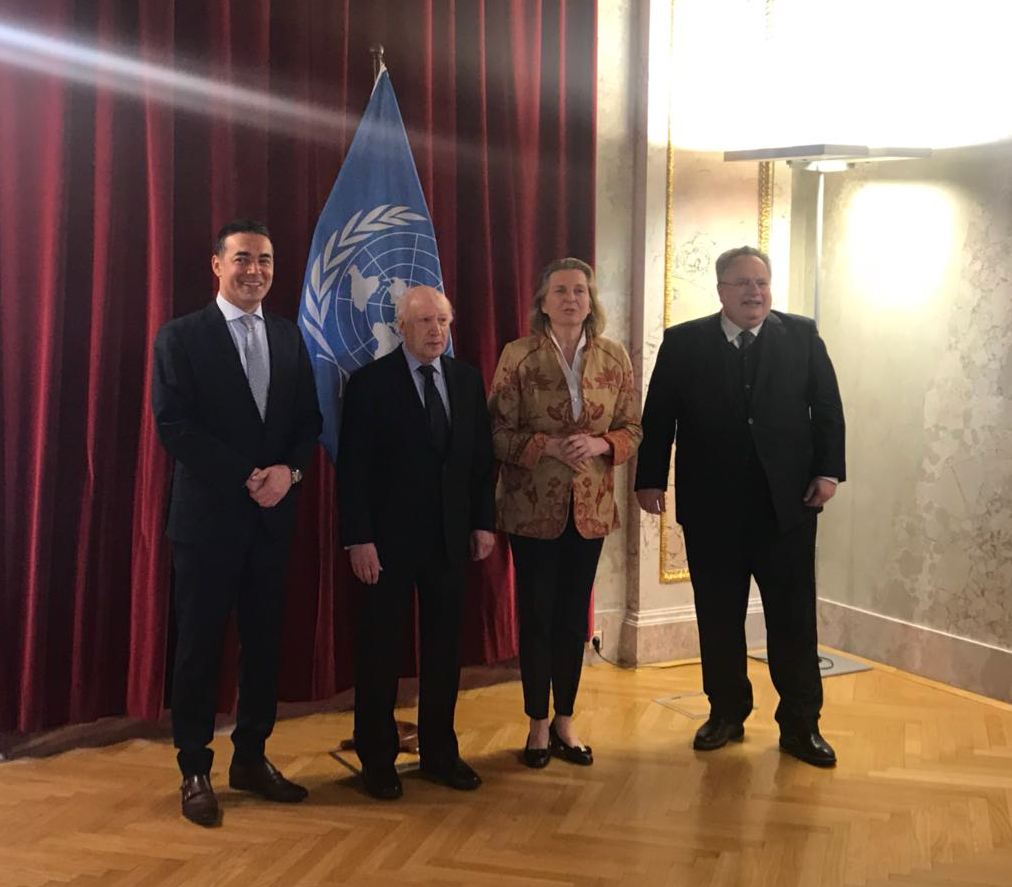 In his statements to the fYROMacedonian media after the meeting in Vienna on the name issue, the country's Foreign minister, Nikola Dimitrov, said:
"The meeting with my counterpart, Minister Nikos Kotzias and the mediator Matthew Nimetz just finished. You heard Nimetz's statement. We had a long day. We had, in a way, the continuation of the visit of Minister Kotzias and the meeting we had in Skopje.
We talked about all the open issues, about the whole package. I can say that we have made progress under certain conditions, because as we move forward, we come to the difficult issues. And I think that both sides, have enough to think about.
We have worked based on what is most important for Greece, what is most important for the "Republic of Macedonia" and whether we can solve these issues through this compromise.
Meanwhile, it is no wonder that the more open and more specifically we move towards the solution, the more difficulties become obvious.
In addition to our own talks, there was also a working group of high-level diplomats who, as we agreed in the previous meeting, worked on issues where we do not have any particular differences – on the contrary, on most of them there is a common interest, the positive agenda for the future, the co-operation in various fields -that is if we manage to overcome the fundamental difference in the name issue. In a nutshell, from what we saw, there was a team-orientated atmosphere and constructive, the proposals of both sides were taken into account, and we worked on a specific text.
This is a very delicate phase of the process and that is why I would not like to talk very specifically, because until all the issues are closed, they all remain open. Although there are indications from both sides that we can "welcome" certain things, we can say nothing about them as they are interconnected and affected the serious issues.
Upon our return, we are obliged to discuss and think, both we and them. It was very helpful that Nimetz, who also has to deal with other matters over the next few days, called us to meet again. First and above all, we agreed to be in touch and most probably we will meet again  after Easter.
I think no one could doubt that both parts are greatly committed and there is convergence of strategic interests, because overcoming this issue means closer and more friendly relations. We live at a time when it is important to resolve the situation. Stability in the Balkans is a common interest, friendly ties too and this perspective from which we are also considering the existing differences between us.
This is perhaps a summary that I can offer about today's meeting: it was productive, conditional progress was made – conditional in the sense that there are issues that are difficult and where differences remain unbridgeable.
For sure, the meeting was productive, in a positive spirit and we have taken some steps forward. Ahead us there is homework that needs to be done, and of necessary thoughts and then, as I have already said, we will arrange to meet again in the coming period. "…. / IBNA