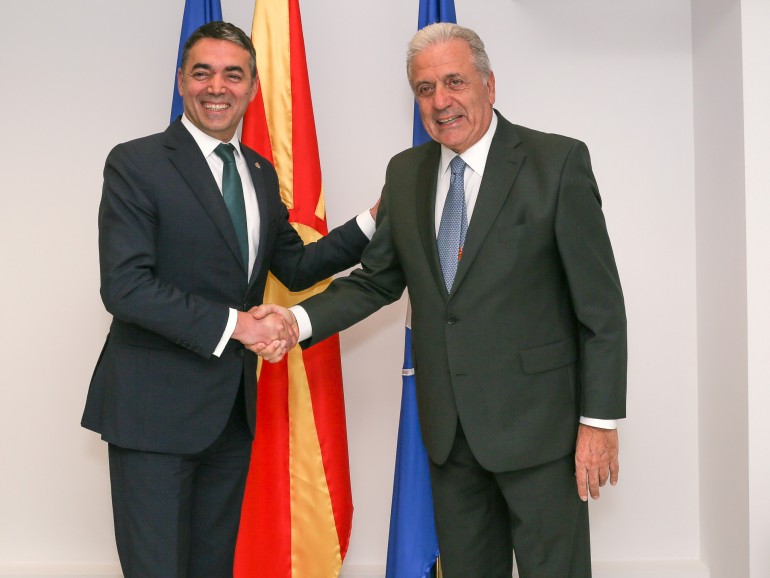 The Minister of Foreign Affairs of North Macedonia Nikola Dimitrov met with the European Commissioner for Migration, Home Affairs and Citizenship Dimitris Avramopoulos.
The Greek Commissioner travelled to North Macedonia to participate in the EU-Western Balkan Ministerial Forum on Justice and Home Affairs held in Skopje on 18-19 November 2019.
During their meeting, Nikola Dimitrov and Dimitris Avramopoulos exchanged views on current developments in the country and the wider region, following the results of the October European Council, as well as on current issues within the EU. The two men also talked about the mutual contemporary challenges which underline the need for cooperation and joint action, with a particular emphasis on migration; it was in this context that the agreement on cooperation between North Macedonia and the European Border and Coastguard Agency was signed.
Dimitrov reiterated that, despite the disappointing outcome of the European Council's decision not to start the accession negotiations with North Macedonia in October, the country does not drift away from its European course, the reforms and the construction of good neighborly and regional relations.
For his part, Dimitris Avramopoulos expressed his satisfaction with the country's achievements regarding its European integration. North Macedonia has shown great commitment and effort to address the security risks and challenges posed by the migration crisis, for which the EU is very grateful and will continue to work with the country further. /ibna