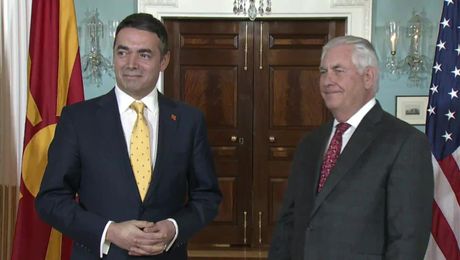 Meeting with US Secretary of State Rex Tillerson had in Washington the Minister of Foreign Affairs of fYROMacedonia, Nikola Dimitrov.
According to a statement from the Foreign Ministry of fYROMacedonia, Dimitrov informed Tillerson of the political situation in the country and the region, as well as "of the current developments in the process of overcoming disputes with Greece on the name".
Nimitrov, at the meeting, said fYROMacedonia is a friend and partner of the United States and expressed belief that with the help of the US and with the support of European allies, the country will soon become a member of the NATO family.
According to the announcement, referring to the reforms in FYROM, Dimitrov stressed that the government wants to build strong democratic institutions and strengthen the rule of law, in order to make the country "a desirable full member of the Euro-Atlantic community".
The US Secretary of State, for his part, said fYROMacedonia is on track to becoming a successful example for the region. He also noted that the US will continue to play a positive role for stability and progress in the area and look for ways to contribute to it. Also, according to the announcement, Tillerson expressed support for the reforms and called on the government of fYROMacedonia to focus on their implementation.
Moreover, FM Dimitrov, speaking at a meeting of the Atlantic Council of Thought on US policy in the Western Balkans, referred to the commitment of the new government of fYROMacedonia towards the democratisation and institutional shielding of the country, the improvement of relations with neighbours and the promotion of reforms, with a view to giving new impetus to its Euro-Atlantic perspective.
On the dispute with Greece on the name issue, Nikola Dimitrov said that the new government in Skopje considers Greece as potentially the most important ally of fYROMacedonia in the region and approaches in "good faith" negotiation that would "take into account the concerns of both sides" to achieve a "no winners and losers" solution.
"The name issue should stop being an obstacle to the accession of fYROMacedonia to Euro-Atlantic Institutions and both countries should focus on the mutual benefit of becoming allies in the region and to reverse the blame climate, by focusing on a joint path to progress and prosperity", Dimitrov noted.
The foreign minister added that the societies of the two countries are now more mature to accept a solution and the US could help by encouraging the two countries' negotiations and by confirming the mutual benefits of resolving the name dispute./IBNA