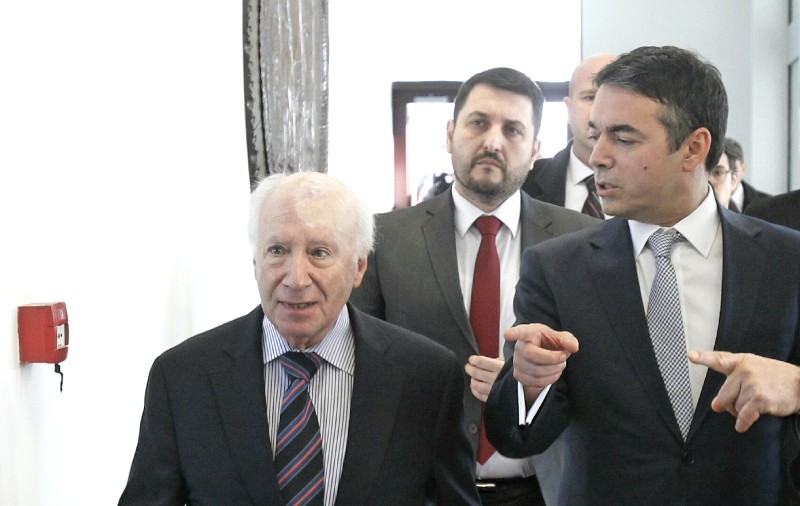 Dimitrov: Identity cannot be subject to negotiations  The identity cannot be subject to negotiations because it is not part of a decision but comes as a result of a historic process. This issue is larger than me, the negotiators and the entire generation of current politicians, even future ones. Therefore, a solution will unfortunately be impossible if we reach this point of touching upon the issue of identity. However, it will be unfortunate if two European countries are not big enough to recognize this in the year 2018, said Foreign Minister Nikola Dimitrov on Thursday.
FM Dimitrov held a joint press conference with United Nations envoy in the name issue Matthew Nimetz after their meeting in Skopje.
"We have full understanding regarding this aspect. We want this issue to be solved in a way that is considered as dignified in both countries. We understand citizens in Greece who identify themselves as Macedonians, but our Greek neighbors and no one else in 21.-century Europe can deny our right to be Macedonians and speak in Macedonian language, part of the Slavic group of languages," he added.
Nimetz said he has yet not heard anything from the Greek side that would deny the identity of the people in Macedonia.
"I believe the solution, which is possible, is consistent with maintaining, even strengthening the identity. I am an optimist. In this context, there are differences in positions of the two countries, but I haven't heard any denial of the identity from Athens," added Nimetz.
According to him, the authorities in Skopje are qualified and competent to maintain the people's identity.
"I believe the people in the country should not be concerned about having a government that takes care of their identity. There are issues in the UN context such as definition of the language, definitions used internationally. People are concerned that this is an aspect that refers to identity. Some of those issues are subject to discussion. I believe the identity of nations across the globe is defined by the nations themselves. UN works with countries and the way their names are used within the UN, it does not deal with the fact how they identify themselves and does not discuss the identity," stressed Nimetz"./IBNA