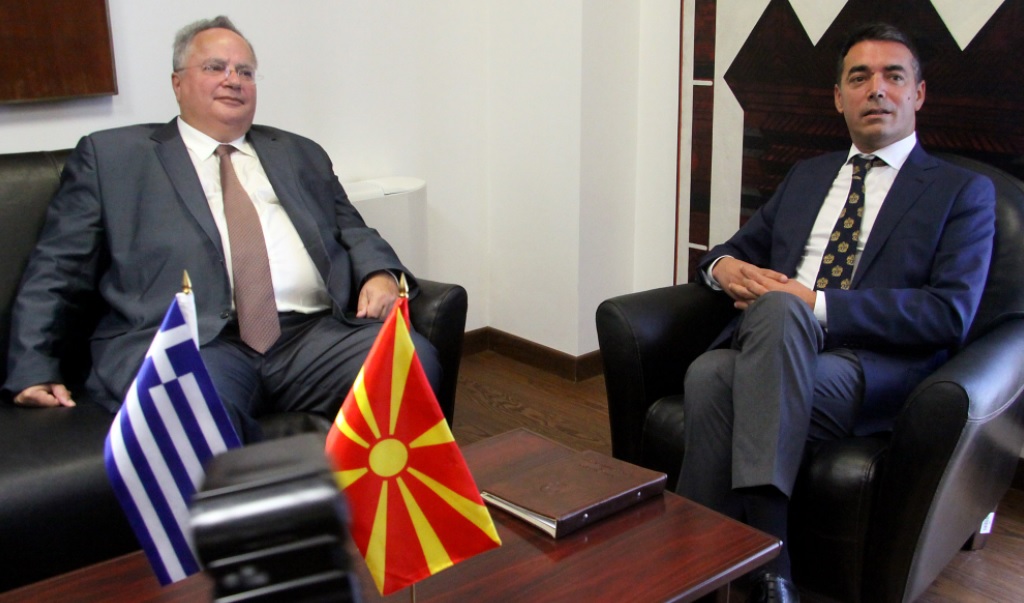 The head of the Greek diplomacy, Nikos Kotzias and the Foreign Minister of FYROM, Nikola Dimitrov have expressed their optimism about the strengthening of cooperation between the two countries and the solution of pending issues.
"I'm happy that I'm here and that this country is coming out of the political crisis, the same as my country, which is coming out of the financial crisis. This shows how many common things we share", Kotzias said.
He added that they will continue to discuss issues initiated in Athens and that there will be continuous communication with minister Dimitrov.
"Our policy of not interfering in the internal affairs of your country was fair. Greece supports the stability and sovereignty of your country. This stability fuels our stability too and the development of the region. We believe that the entry of the Balkans and your country in the NATO and EU will be in the best interest of the region and will help the region to develop", the head of the Greek diplomacy said.
Kotzias also called for problems to be overcome along irredentism that transforms inexistent problems.
"This is very important to us. I this aspect, I would like to say that the government of your country and our government want to develop relations of mutual trust, because we can solve all the issues that exist between us", Kotzias said.
According to him, Greece wishes to help FYROM in the path of Euro-Atlantic integration and other issues that relate to reforms.
Kotzias avoided direct answers on the name contest and the integration in the NATO and EU, stressing that these are obligations that have been imposed by these organizations and which must be delivered.
"We want your country to be in the NATO and EU, but this must complying with the requirements", Kotzias said.
Meanwhile, FYROM's Foreign Minister, Nikola Dimitrov, who was the host of this meeting, said that issues of mutual interest were discussed with the Greek counterpart.
"We have no secret agendas and we value these meetings in building relations of mutual trust. I confirmed our priorities, including regional cooperation and our European orientation. We expect support and assistance for our European goals. We want to consider Greece as a friend and ally", Dimitrov said.
He said that there have also been discussions on the name issue, but mainly on the process, how they will be held, the method and modalities and the interests and key concerns of the two sides.
Meanwhile, the Greek Foreign Minister will also hold meetings with the president George Ivanov, PM Zoran Zaev and deputy PM for European Integration, Bujar Osmani. Meanwhile, a protest was held against the visit of the Greek Foreign Minister by the Macedonian World Congress during the time that this meeting was being held. /balkaneu.com/