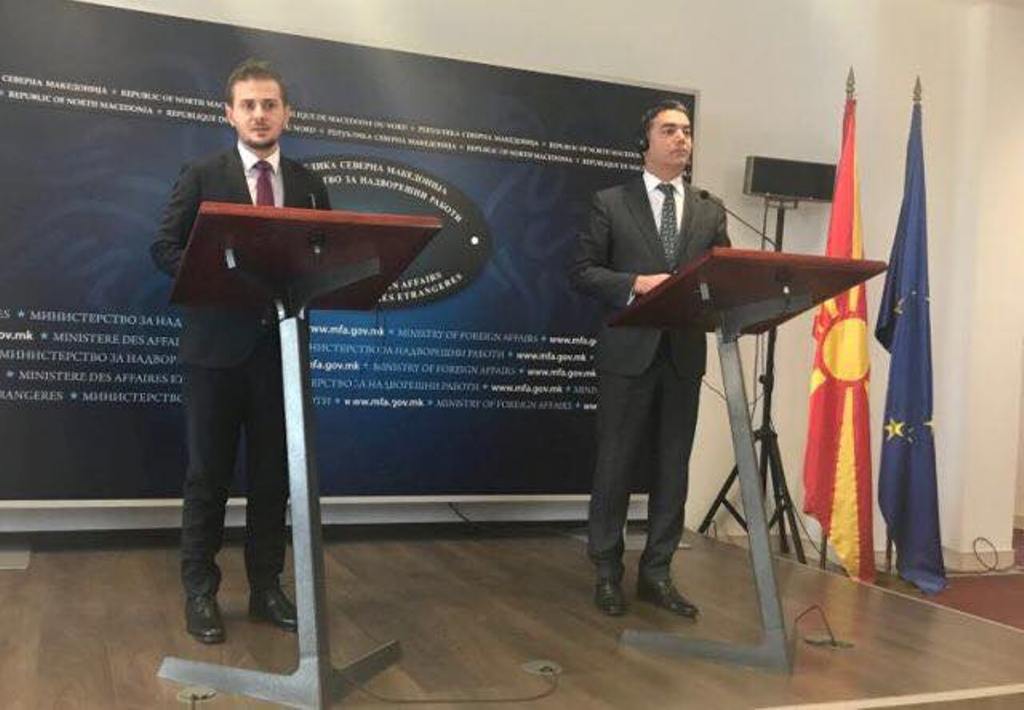 Albania's acting Foreign minister, Gent Cakaj is in an official visit to Skopje today where he declared that he was happy that the neighbouring country had finally managed to solve the name dispute with Greece. Cakaj declared this after holding a meeting with his counterpart, Nikola Dimitrov.
"North Macedonia is not only a friendly country, but also a strategic partner for Albania. Albanians living here are part of the success of this country. Today we discussed a number of issues relating the necessity of expanding bilateral relations and supporting each other in the process of EU integration. We also confirmed our commitment to preserve the excellent relations that exist between our two countries", minister Cakaj said.
Cakaj also said that he praises the implementation of the law on the use of languages and announced that Albania will open an honorary consulate in Manastir.
On his part, minister Nikola Dimitrov said that Albania and North Macedonia have excellent bilateral relations and that they will continue to support each other in their Euro-Atlantic integration path.
Asked about the negotiations between Kosovo and Serbia, Dimitrov said that they will support every agreement that Pristina and Belgrade will reach, on condition that it contributes for the stability of the region.
On his part, Cakaj said that Albania's duty is to support Kosovo in this process. "We believe that every agreement between Kosovo and Serbia should lead to mutual recognition and it should also offer Kosovo a clear European perspective and a seat at the UN", Cakaj said. /ibna/