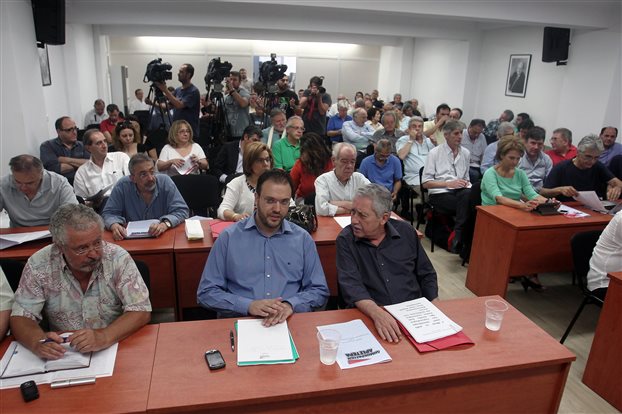 By Spiros Sideris – Athens
Discussions with SYRIZA for the possibility of formulating a governmental proposal with specific programmatic elements, Democratic Left (DIMAR) proposes in a letter to the main opposition party, "on grounds that SYRIZA is excluding itself from the processes for the Center-Left", while at the same time DIMAR, in a second letter, is requesting the immediate initiation of discussions with PASOK, the "River" and independent MPs for the Center-Left.
The president DIMAR, Fotis Kouvelis, has made it ​​clear that he does not seek the accession of one party to another with this initiative. The crisis that deepened after the European elections with the party's failure to elect an MEP, remains in the ranks of DIMAR and the onetime partner of the Samaras government seems to be on the verge of dissolution.
For the "small PPC", it was decided by a majority that DIMAR will submit its proposal to hold a referendum. Fotis Kouvelis had initially suggested for DIMAR to sign YRIZA's proposal for the referendum, saying that he does not believe that the main opposition is looking for allies to block the election of the President of the Republic, but that actually opposes the bill for the "small" PPC.
But after the vehement reaction of four of the party's MPs, in addition to the MP Gregoris Psarianos, who was not involved in the process and is essentially outside the party, he was forced to change his decision and recommend for DIMAR to bring its own proposal for a referendum against the controversial bill on "small PPC", but in which it will be highlighted that the party agrees to the liberalization of the energy market.
Fotis Kouvelis' change of strategy actually represents a painful intraparty defeat; a schism in essence with the party's minority, a few days after he had agreed in a telephone conversation he had with the president of SYRIZA Alexis Tsipras to set up a Joint Committee with parliamentarians from SYRIZA, the Independent Greeks and DIMAR, in order to examine the proposal for a referendum on the controversial bill for the sale of a portion of PPC.