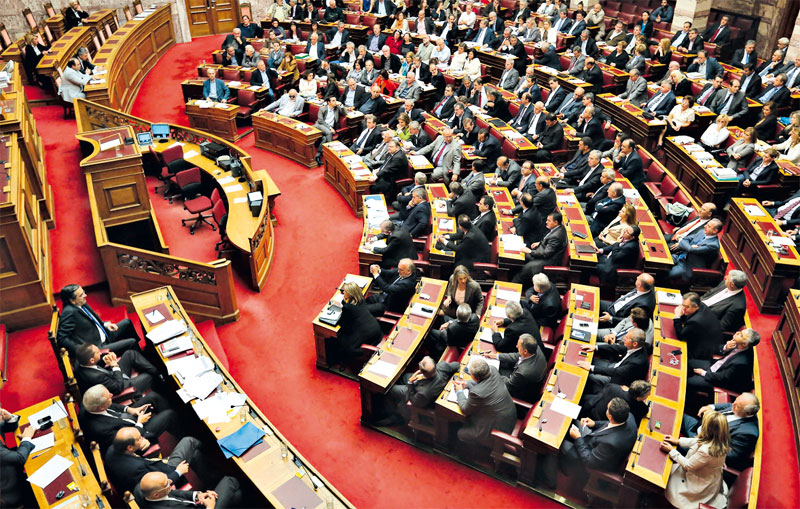 By Spiros Sideris – Athens
The need for the immediate activation of the constitutional revision process highlights DIMAR in a timely interpellation that was tabled yesterday.
In their interpellation, the MPs of DIMAR, headed by party president Fotis Kouvelis, point to the need to revise the Constitution, namely the provisions that refer to the electoral system, the transparency of party funding, ministerial responsibility and parliamentary immunity (with a deletion of Article 86 on the criminal responsibility of ministers), the "complete separation of powers" and the selection of the leadership of the highest courts of the country, the powers of the President of the Republic, the referendums, the control of the media operation, the labour and social rights (towards the direction of their strengthening), the total number of MPs in Parliament, Church and State relations, the incompatibility of parliamentary and ministerial functions, the necessary – argues DIMAR – prevention of the premature termination of the four year mandate, etc.
"Because the previous constitutional review was completed with the resolution of May 27, 2008 of the H' Revisional Parliament, it is clear that the prohibitive five-year period elapsed over a year ago. So at anytime – abiding by the procedures of Article 110 – the initiation of the review process is possible. Especially since under Article 110S the constitutional review process is completed in two legislative periods, meaning that a failure of this House to initiate the review process will mean that the political and institutionally necessary constitutional revision will be postponed for an unacceptably long period", is noted among other things in DIMAR's interpellation.
The interpellation of DIMAR comes just days after the initiation of the procedures for the processing of the under revision articles on the part of the New Democracy. Both Prime Minister Antonis Samaras, and Deputy Prime Minister and PASOK leader Evangelos Venizelos, have stressed that the institutional reconstruction of the country is imperative, through the constitutional revision.