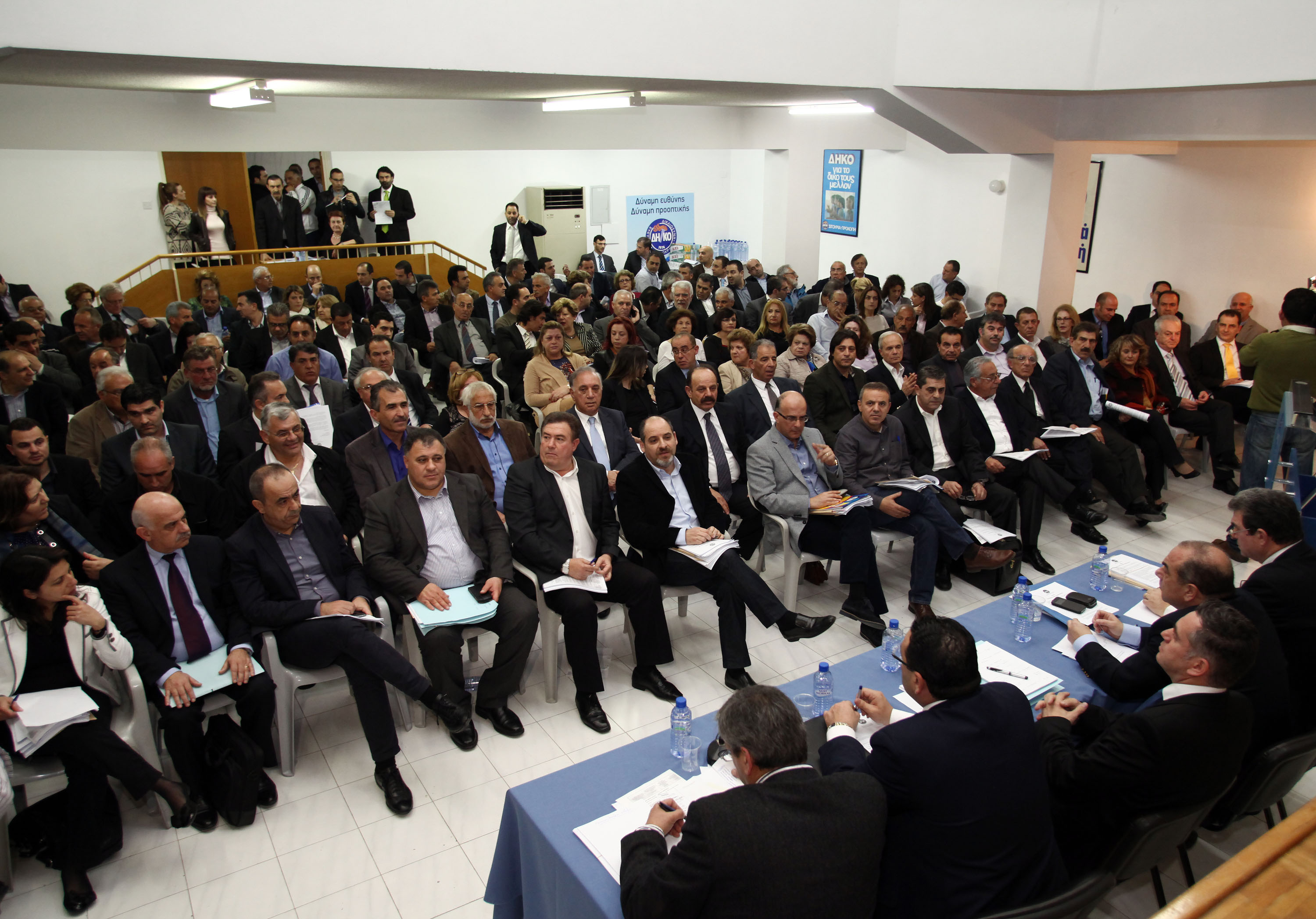 By Kyriacos Kyriacou – Nicosia
Centrist Democratic Party (DIKO) has decided, on Wednesday night, to leave the government coalition over disagreements with President Nicos Anastasiades concerning the terms included in the joint declaration, signed by Anastasiades and Turkish leader Dervis Eroglou for the resumption of the peace talks to unify divided Cyprus (since Turkish invasion in 1974).
The Central Committee of DIKO, which concluded a marathon meeting with a vote, decided to call on the four Ministers and the three Presidents of semi-governmental organizations representing the party to step down. Ministers appointed after having been proposed by DIKO include Minister of Energy, Commerce, Industry and Tourism Yiorgos Lakkotrypis, Minister of Education and Culture Kyriakos Kenevezos, Minister of Health Costas Petrides and Minister of Defence Photis Photiou.
The vote was 97 for and 81 against the proposal for exiting the government, as DIKO spokeswoman, Christiana Erotokritou, said after the meeting. There were no abstentions. DIKO Ministers and SGO Presidents are expected to submit their resignations within the next few days.
The party has repeatedly expressed its strong opposition to the joint declaration, which is based on a bi-communal, bi-zonal federation with political equality.
DIKO has developed a strict and hard-line stance on the Cyprus matter and strongly opposed the "Annan" solution plan in 2004. The party also supports European integration and supports a non-aligned foreign policy, even though it has showed support for Cyprus joining Nato's Partnership for Peace.
DIKO had backed President Anastasiades, who won the Republic of Cyprus' presidential elections on February 24, 2013 with 57.48% of the vote.
Last week Nicolas Papadopoulos warned President Nicos Anastasiades that he will leave the government coalition if the President goes through with his plan to recommence peace talks based on the specific joint declaration. Papadopoulos had also accused Anastasiades of lying in his press conference on February 12.