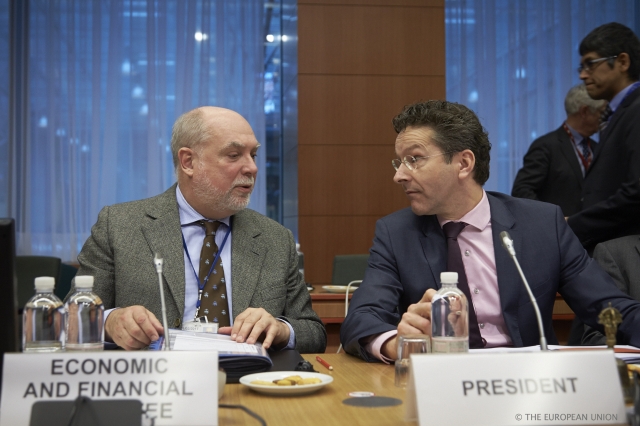 Eurogroup chief Jeroen Dijsselbloem will be in Athens for talks with the country's government on Monday, accompanied by Euro Working Group chairman, Thomas Wieser.
The visit comes a day after Angela Merkel secured a victory in the German federal election.
Dutch Finance Minister Djisselbloem will hold talks with Greek counterpart Euclid Tsakalotos that are expected to focus on key issues of the third review of Greece's bailout program. Athens must implement a total of 95 prior actions in order to successfully wrap up the review and take another step towards completing its bailout program in August 2018.
The result of Sunday's election in German is expected to be highly significant in terms of the realization of the Greek government's goal to exit the memorandum of understanding it has signed with creditors as planned in 2018.
Complex talks over the formation of a coalition government in Germany could have a negative impact on the third review of the Greek bailout program as many months may be required before a German government is sworn in, thus stalling any breakthrough in Greece's talks with creditors. It is also noted that in a possible CDU/CSU coalition with the Liberal FDP, the German government's stance towards Greece is expected to be firmer in terms of the bailout agreement.
In any case, Athens will continue deliberations with international creditors over the next few months. These will focus, inter alia, on dealing with non-performing loans, kick starting e-auctions of foreclosed property due to outstanding debts to the State and out of court settlement of arrears.
Dijsselbloem and Wieser are expected to reiterate in Athens that the country's government must stick to the implementation of the agreed reform program in order to regain full debt market access in 2018.
According to Greek government sources, Athens expect to gauge the stance of the two EU officials towards the possibility of tapping markets again in October. The European Central Bank in considered to be open to such a suggestion, the same sources point out.
In an interview with Greek newspaper TA NEA ahead of his high profile visit to the Greek capital, Dijsselbloem warned the Tsipras administration that even if the program is successfully concluded in 2018, Greek finances will remain under creditors' scrutiny.
He said this was the case when Ireland, Spain and Cyprus exited their respective programs, "especially in light of the fact of pending loans (extended to Greece by institutional creditors), which have a long maturity period".
"The common goal of the Greek government and its European partners must be that August 2018 will be the end of the (bailout) program. We must ensure that Greece will be fully prepared," Dijsselbloem told TA NEA.
Asked to comment on the possibility of extending debt relief to Greece, the Eurogroup chairman said it will be examined only after the program finishes, "assuming it is necessary and that the country has met its obligations"./IBNA