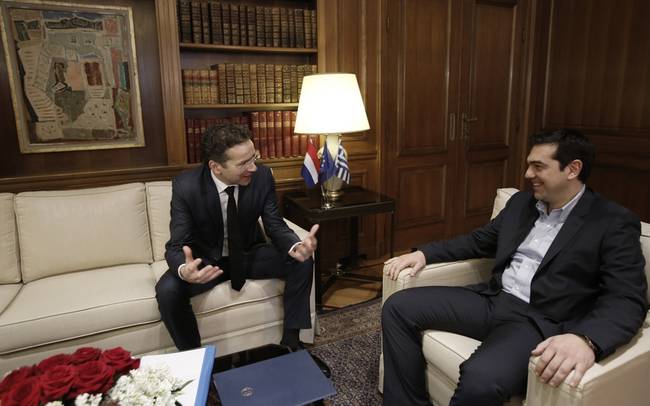 On an official visit to Athens on Monday, Eurogroup chief Jeroen Dijsselbloem told Greek Prime Minister Alexis Tsipras that he shared his interest in achieving a "clean exit" from the bailout program for Greece, as long as the country continues to implement agreed reforms.
Dijsselbloem added that he sees a "joint interest in getting the third review done quickly."
Later on Monday, in an interview with SKAI television, the Dutch Finance Minister said about the review: "All our interests are aligned. Let's get it done. Let's finish this phase [before a] final exit next August."
On his part, the Greek premier said there is "good news regarding the performance of the Greek economy," agreeing with the Eurogroup president to continue to work towards Greece's exit from the current program which ends in August, 2018.
Dijsselbloem expressed his gratitude for the level of cooperation after a difficult period of intensive talks, saying that a lot of work has been done and that this is "good news not just for Greece, but for the eurozone as a whole."
In joint statements with Greek Finance Minister Euclid Tsakalotos, Dijsselbloem explained that after the bailout program expires, Athens should expect to be supervised twice annually for a number of years.
In turn, Tsakalotos noted that the common goal is to leave the program without the need for a new bailout, noting there might be some ups and downs in the ten months that remain, however the objective is to find solutions.
Concerning the possibility of another foray into international debt markets, Tsakalotos said the government plans to test markets a number of times before the country exits its program, adding that such moves are not announced in advance./IBNA