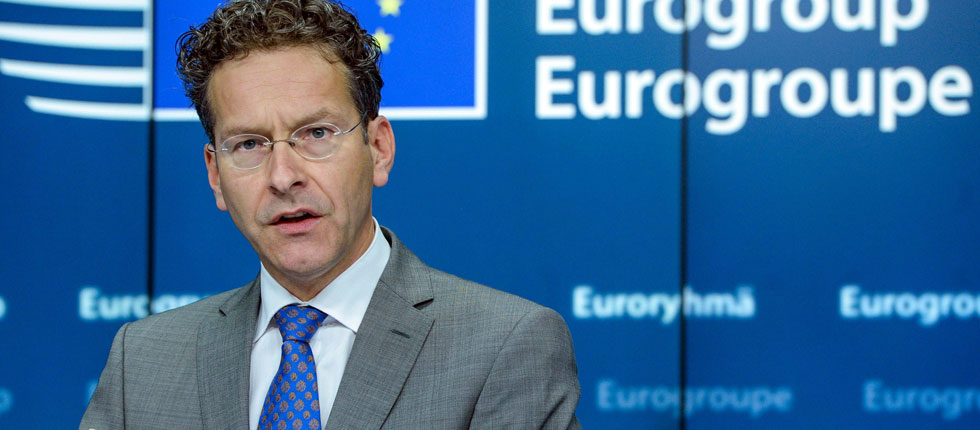 Athens, September 3, 2015/ Independent Balkan News Agency
By Spiros Sideris
Jeroen Dijsselbloem sends a strict message to Athens, making it clear that Greece will get money only with the implementation of the agreed, restoring the Greek issue high on the agenda of the upcoming informal Eurogroup. Thus, after the director of the European Department of the IMF Paul Thomsen, who yesterday warned that the elections may postpone the assessment and therefore the disbursement of the tranche to Greece, the head of the Eurogroup also rings the bell.
According to the information document of Jeroen Dijsselbloem to the finance ministers, the latest political developments in Greece will be high on the agenda of the informal Eurogroup on September 12, while he records his concern for the election and possible delays in the prerequisites that must be completed in order to release the subdoses of EUR 3 bn. Dijsselbloem clarifies that Greece must honor the agreed and any delays due to political developments are its own responsibility.
According to the agenda, the first topic in the meeting of finance ministers will be the situation in Greece following the adoption of the 3rd Memorandum on August 19, and the announcement of elections the day after. There is extensive reference to the procedure for the payment of the first package of tranches worth EUR 26 bn and the EUR 3 bn that remain from this package as subdose-subdoses. And it becomes clear that this amount will be paid only if it is established "compliance with the implementation of the necessary prerequisite actions".
Furthermore, the same document refers to the broad support of the 3rd Memorandum by the Greek Parliament, but also to the fact that already three reform packages have been ratified by the Greek Parliament as "signs that the loan from the ESM has broad political support in Greece". However, it becomes clear that without the fulfillment of the other prerequisites, there won't be a disbursement of the other subdoses. Indeed, the "risk" of this delay in the implementation of reforms as a result of the elections is fully attributed to Greece.
DIjsselbloem also described the seriousness of the situation in a speech at the Parliament of the Netherlands, where he stressed that "only if the objectives are achieved will the programme continue".
The Ntaiselmploum also reiterated that each dose is inextricably linked to achieving the objectives by Greece. Finally, he said that early elections in our country will not cause delay in the assessment of banks.