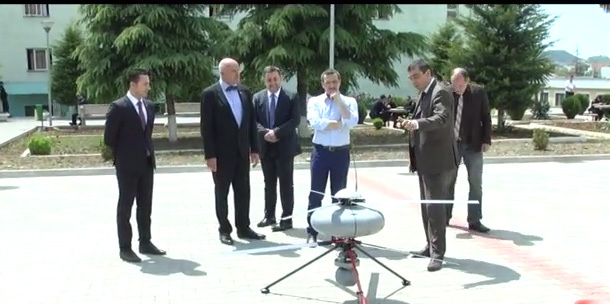 Tirana, 14 May 2015/Independent Balkan News Agency
In Albania, police authorities are making efforts to boost the fight against crime and to advance technology by exploiting it for their needs.
In the recent hours, the Albanian Digital Precinct was inaugurated and authorities have also started to use drones in operations for the capture of wanted people.
Drones
Albanian State Police has started to test the drones in order to use them for special operations for the capture of wanted people and to follow and monitor different rallies from above.
Minister of Interior, Saimir Tahiri and Police Commissioner, Haki Cako, followed today the testing which took place at the Security Academy.
They said that in order to boost efficiency in police operations and avoid the risk for the life of police officers, it was decided to introduce the best high tech in order to assist police.
As you can see below on the video  that IBNA brings you, experts demonstrated the parameters of the drone when searching vehicles that drive more than 80 km per hour on the highway.
These drones can fly on their own for two hours and may also be used to monitor informal areas where there are illegal constructions.
Whatch VIDEO: Albanian Police to introduce drones in order to catch wanted people
Digital precinct
"Digital precinct" is the application presented by the Ministry of Interior and "Vodafone Albania" Foundation, which is believed that it will serve citizens and State Police to guarantee the quality of service, application of law, fight against corruption and to improve public safety.
On the video IBNA brings you below, you will see images from the presentation of this novelty.
Minister of Interior, Saimir Tahiri says that this is a successful example of the use of technology to serve public interest.
Upon the download of this application on the mobile phone, each user can report in real time to the State Police photo, videos and texts for cases suspected of violation, corruption and unlawfulness.
The citizen can choose to remain anonymous or can identify himself. The "Digital Precinct" application also enables citizens to follow up through their phone the answer or reaction given by police for the reported case. /ibna/