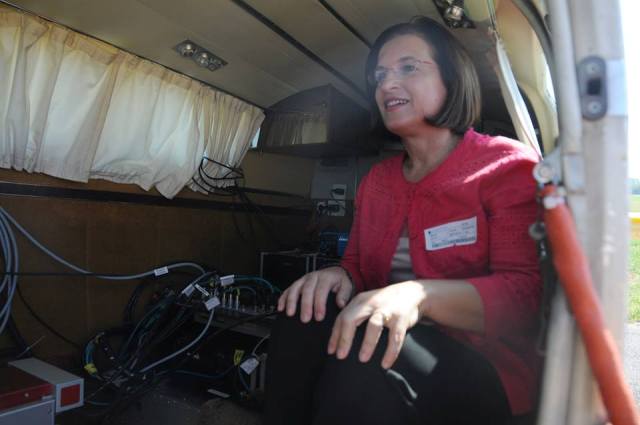 Tirana, 29 July 2015/Independent Balkan News Agency
Albanian authorities have hired a German company which is making an aerial three dimensional photographing of the entire territory of Albania.
Currently, phase one of the project has ended, which relates to the photographing of the urban zones with an area of around 1100 square kilometers out of the total area of 28748 square kilometers that Albania has.
Minister of State for Innovation and Public Administration, Milena Harito, who was yesterday in an inspection with the aircrafts that carry out the aerial photographing, says that this process will be finalized within this year.
"The novelty of this process, which is being carried out through the latest digital technology, consists of the fact that it's not only photographing, but also a scanning the territory. This aerial photographing will give us accurate data on the entire territory of Albania and will provide us not only with aerial photos, but also a scanning of the area to have 3D images. This means that we will have accurate data on the buildings, their height and this is a good way to solve the problem of illegal constructions, especially in the case of floors built without a permit", minister Harito explains.
According to the minister, aerial photos will serve as a basis for a unique map of the Republic of Albania.
"For the first time, we have a close cooperation between 10 institutions, which have agreed on using this map as a unique reference for all documents that they produce", Harito says.
For Albanians, this is good news, because different institutions use different maps and this has caused chaos and long delays in the process of legalization and evaluation of properties.
"One of the problems that our agencies have had relates to the fact that each of the produced different maps with different references, not to talk about the quality of paper maps, which are very old and damaged", Mrs. Harito notes.
Under this project, there will be 40 thousand photos in total in urban and rural areas.
Experts say that the data collected from this aerial digital photographing, will help for scientific research and will help in analyzing the changes compared to current data on issues such as coastal erosion, forests, development of mineral sources, changes in the use of land, etc.
Authorities have not published the cost of this process. /ibna/