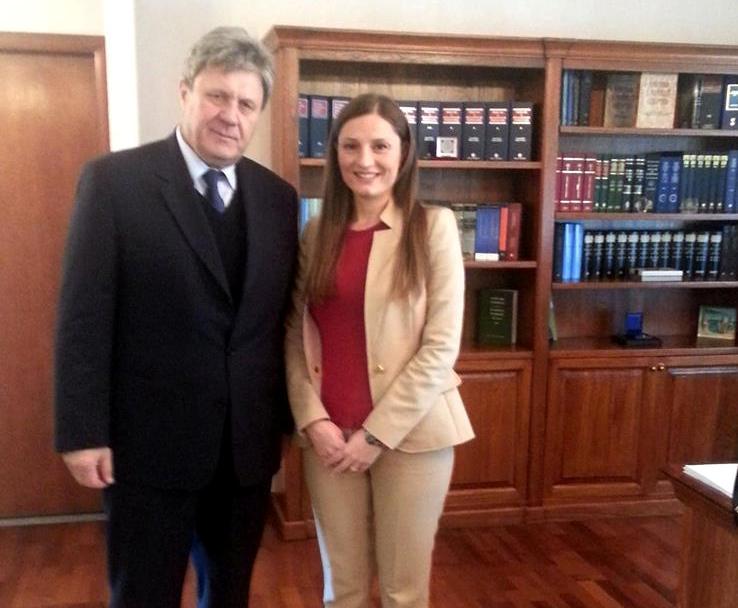 Tirana, November 24, 2014/Independent Balkan News Agency
A few days after the Albanian president launched a wave of criticism against Russia and its policies relating especially to Crimea, the Albanian government undertakes a diplomatic effort to boost cooperation between Tirana and Moscow.
Minister of European Integration, Klajda Gjosha received the Extraordinary and Omnipotent ambassador of the Russian Federation to Albania, Mr. Alexander Karpushin (Photo).
The two interlocutors considered the relations between the two countries as very positive and talked about the importance to boost them, especially in the domain of economy.
Minister Gjosha said that for Albania, the process of integration is a national priority and stressed regional cooperation with which the same aspiration is shared.
"Albania plays a positive role in the region boosting cooperation and good neighboring relations. The final aim of the entire Western Balkan is EU accession and we're convinced that by implementing joint projects, we can speed up these major efforts", says Gjosha.
The Russian ambassador praised Albania's integration process by stressing that this perspective will further strengthen democracy in the country.
"This process helps you increase the living standards of your citizens, therefore we consider, above all, your efforts to fight organized crime and corruption, as very important", said the Russian ambassador.
Gjosha and Karpushin underlined that no different viewpoints can prevent relations in the domain of economy, which must be based on the principle of the common good of both countries.
The Russian ambassador said that Albania has much potential which must be exploited and the history of the two countries so far has showed that these potentials may be boosted in domains such as tourism, energy, infrastructure and agriculture.
Russia doesn't have many direct commercial relations with Albania and Russian investments in the country are almost nonexistent. But, what's interesting is that the Russian embassy says that 80% of wheat and flour sold in Albania comes from Russia, through FYROM. /ibna/