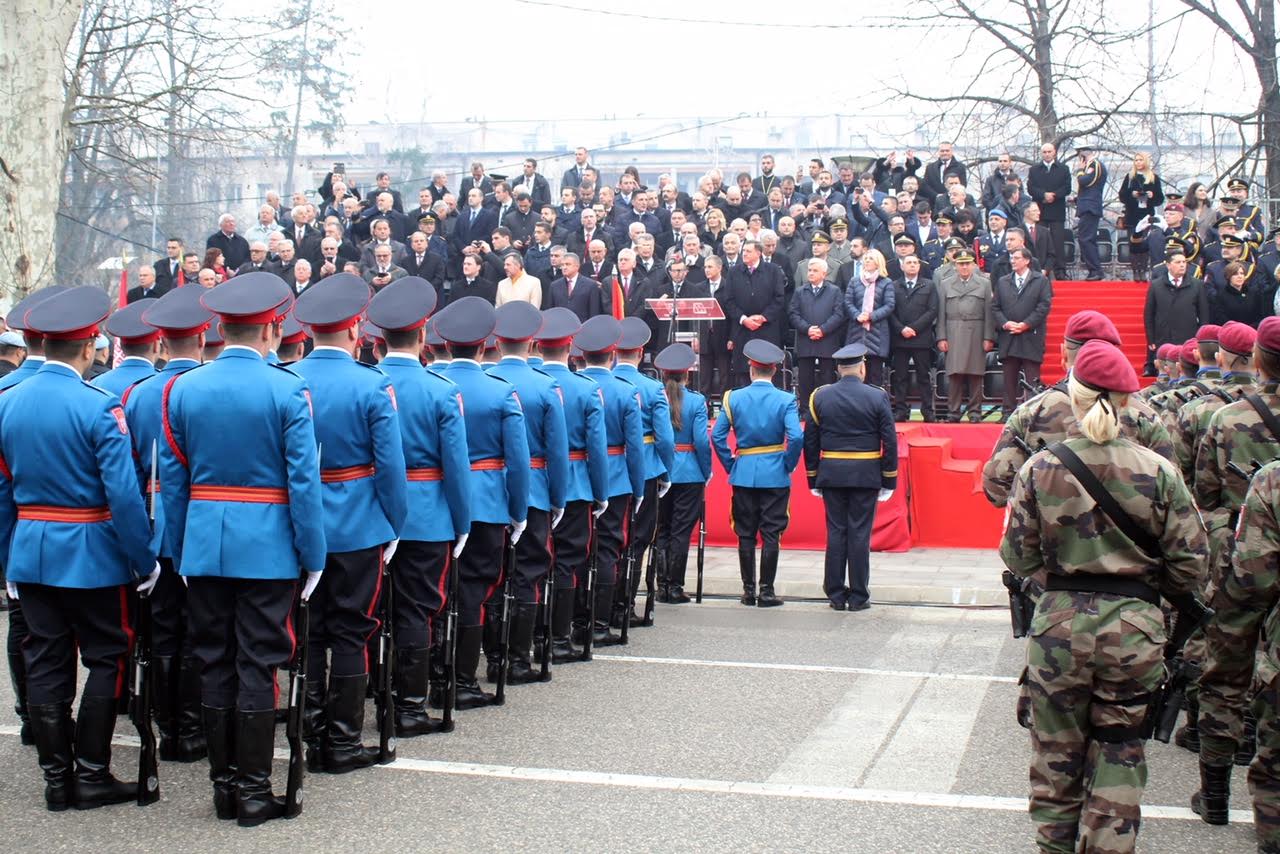 More than 700 police officers secured the Banja Luka centre, on Tuesday, during the parade in honour of January 9, on the official celebration of the Day of Republika Srpska.
About 2, 000 participants marched through the main street in the Republika Srpska's official capital, paying respects to all those who established RS, in January 1992, and continued to fight for it during the 1992-1995 war in BiH. The RS police officers marched at the head of the parade, but citizens, institution and organisation members also marched on this occasion. Everything was solemn, or at least it felt that way.
What was obvious, was the lack of VIP guests, including those from Serbia. The highest-ranking official was the president of South Ossetia, Anatoly Bibilov. Serbian president, Aleksandar Vučić, continued boycotting Banja Luka and avoided to come on celebration. Also, Serbian PM, Ana Brnabić, and Minister of Foreign Affairs, Ivica Dačić, did not attend celebrations along with RS president, Milorad Dodik. Serbian Government was represented by ministers, Nebojša Stefanović and Aleksandar Vulin. Russian Ambassador to BiH, Peter Ivantsov, although a bit late, did come and attended the celebration.
Many RS officials and guests repeated that Republika Srpska is a special category and that it is "normal and natural" that, one day, it will be a united and one and only state with Serbia. Exactly this sentence is creating the greatest problem in Bosnia and Herzegovina, pushing the country into the deeper division.
In fact, at the same time when the parade participants were marching through the Banja Luka streets, in Srebrenica, the place of the genocide during the war, Bosniak organisations signed the declaration in which they warned that non-Serb citizens are disappearing from RS and noted the "trend" of the their removal from every public functions. They also demand that Bosniaks in all institutions in BiH insist on respecting the BiH Constitutional Court decision that celebration of January 9, is not in accordance with BiH's Constitution.
The respect of this decision was emphasised also in the press release of the Office of the High Representative in BiH, that read that these decisions are obligatory and that any refusal to implement it are the violation of the Dayton Peace Agreement. But, RS National Assembly, after the decision of the Constitutional Court, adopted a new Law about the RS Day which was not disputed at the Court. On Monday, Bosniak politicians in RS institutions said that they will fill the complaint and give it to the Court and demand the decision about the constitutionality of new Law.
No matter what the Court will decide, it is certain that RS officials will not respect it. The situation will remain unchanged as Milorad Dodik needs patriotic speeches in order to keep the power in RS…/IBNA