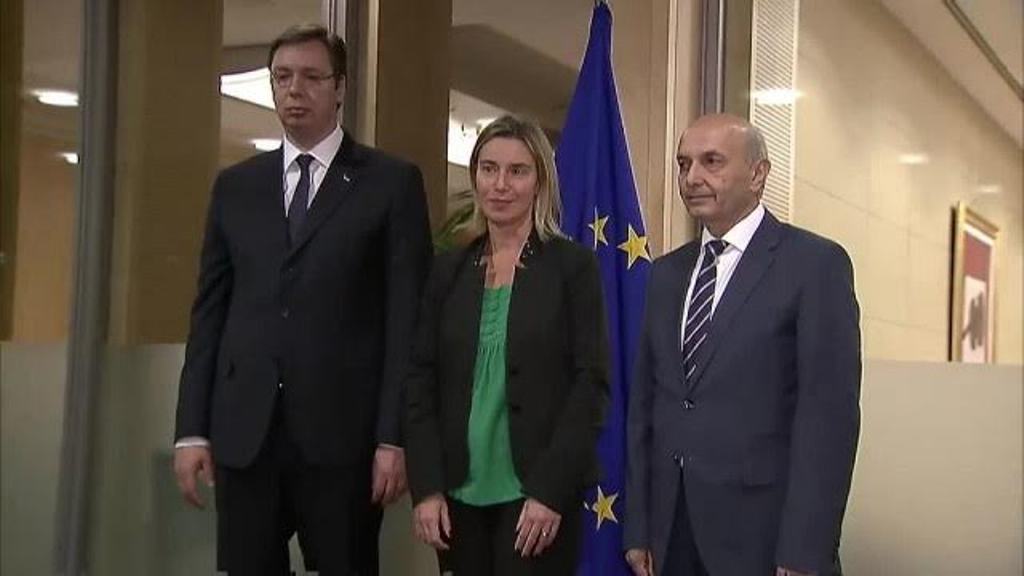 Prime Minister of Kosovo, Isa Mustafa declared today that the final goal of the dialogue between Kosovo and Serbia must be the mutual recognition of the two countries.
Mustafa made these comments in a meeting held in Pristina by the Group for Legal and Political Studies(GLPS), on the day that marks the fourth anniversary of the first agreement reached as part of this dialogue between former prime ministers Hashim Thaci and Ivica Dacic.
"Dialogue must be built in such a way that Serbia recognizes Kosovo within a particular period of time", Mustafa said.
He said that dialogue has offered Kosovo several processes which he has considered as positive, while he has accused Serbia of trying to escape the implementation of several agreements reached during this process.  He also said that the pace of the dialogue must change, especially in the issue of the implementation of the agreements that have been reached.
"We must agree on the topics that we will address through dialogue and we must discuss the procedures of implementation, because lots of time has been already spent to reach these agreements and it's unacceptable to have other agreements for implementation", he said.
But, for the Prime Minister of Kosovo, dialogue has no other alternative.
"We have inherited problems with Serbia that we cannot solve in any other way but dialogue, therefore I request EU's involvement in order not to allow Serbia to condition it", he said.
He said that all the agreements reached in Brussels, brokered by the European Union, are in compliance with the Constitution and laws of Kosovo.
But he admitted that no all parallel structures have been dismantled so far.
"Not all parallel structures have been dismantled. Parallel structures have only been dismantled in those places where agreements do not apply. Parallel courts will be shut down and parallel license plates will be removed", he said.
Speaking on the creation of the Association of Serb Communes in Kosovo, Mustafa said that Kosovo has insisted for this to be done based on agreements, in compliance with the ruling of the Constitutional Court.
But he said that the Serbs working in the institutions of Kosovo are not interested on talking about the creation of the Association.
While dialogue has been recently suspended, the EU ambassador to Kosovo, Natalya Apostolova called for dialogue to continue.
"The sides most restore dialogue at once", she said.
On the other hand, journalist and publicist, Agron Bajrami said that Serbia has been inspired by the latest global developments.
"Global developments have had a big impact. Brexit, elections in the US and a weakening of the European Union have motivated the Serb PM to provoke the latest events that we have had in Kosovo", Bajrami said. /balkaneu.com/