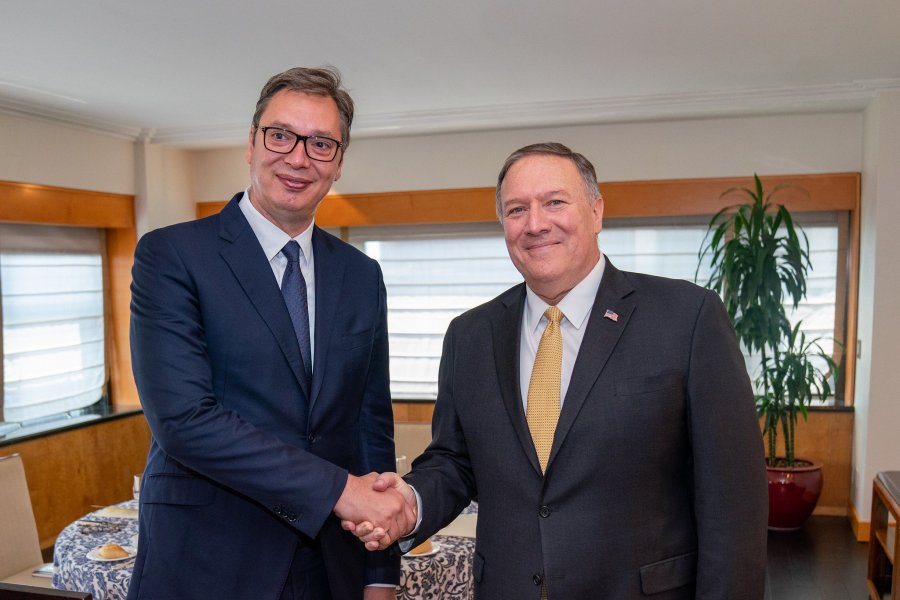 The dialogue between Belgrade and Pristina would resume in December "at the earliest", said president Aleksandar Vucic in New York today. "It could hardly be expected before the elections in Kosovo which are to be held, if I am correct, on October 6", Vucic told TV Prva, on the second day of his visit to the United States.
Vucic reiterated that Belgrade and Pristina should "discuss" the abolishment of the customs tax before resuming the dialogue.
On Tuesday, Vucic had a meeting with U.S. Secretary of State Mike Pompeo.
Keeping the status quo with Kosovo would be "impossible", Vucic went on, stressing however, that peace should be preserved. He stressed that Serbia has the support of the U.S. for the abolition of the customs tax. The meeting with Pompeo took longer than it was planned, Vucic said, adding that the talks have been "serious and responsible".
In his words, United States will not change their stance on Kosovo; nevertheless, "they (Americans) understand the need of reaching a kind of agreement with which Serbia will not be humiliated and its interests underrated".
At the meeting with Vucic, Pompeo encouraged Serbia to focus on its strategic goal which is a European Union membership, according to an announcement of the State Department.
"The Secretary and President Vucic discussed the shared bilateral vision of a stable, secure, and prosperous Western Balkans region, and continued U.S. support for Serbia's goal of integration into the European Union. Secretary Pompeo encouraged Serbia to focus on this strategic goal by accelerating domestic reforms and resuming negotiations with Kosovo on a comprehensive normalization agreement centered on mutual recognition. The Secretary reiterated that both sides should avoid provocations that hinder the normalization process, and engage with the spirit of compromise and flexibility necessary to secure an agreement and unlock both countries' potential", says the statement.
Pompeo also praised "the strong U.S.-Serbia relationship"./ibna