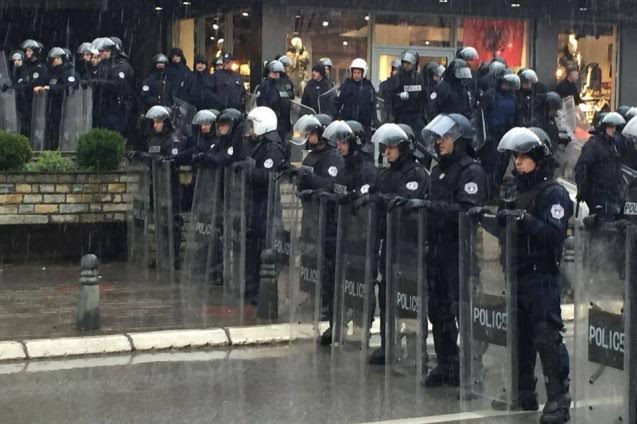 Pristina, 30 November 2015/Independent Balkan News Agency
By Elton Tota
Political tension in Pristina has been present during the weekend. Following a peaceful protest by the opposition, which saw the participation of over 30 thousand people, police arrested the MP and founder of Self Determination Party, Albin Kurti.
His arrest was accompanied with acts of violence and clashes between police and opposition representatives.
While analysts and the heads of state in Kosovo see the solution of the crisis through dialogue, the opposition says that it doesn't give up on its demands for the annulment of the Brussels agreements and border demarcation with Montenegro.
Following the recent developments, President of the country, Atifete Jahjaga invited political parties to dialogue.
"I appeal for dialogue between all political parties in order to avoid violence as an instrument for the solution", Jahjaga said.
Speaker of parliament, Kadri Veseli declared that political problems must only be solved through political means.
"Now, more than ever, we must go back to institutional political dialogue. There are many ways of doing this. I invite, first of all, the opposition to cooperate. Citizens of Kosovo expect this much from us", Veseli said.
In a joint press release, embassies of USA, Britain, Italy and France demanded for dialogue and rule of law.
"We believe in the power of dialogue as an instrument to solve political disputes and we encourage all sides to exploit all possibilities for dialogue, including those within parliament", the declaration continues.
Opposition: We will not give up on our requests
Meanwhile, representatives of the opposition have met on Sunday to discuss the latest developments in the country. Through a joint statement, they said that the current government has turned into a police regime.
"The police raids in the offices of Self Determination and the arrest of Albin Kurti, are unfair. Opposition is united and strong. We will not give up on our requests", the statement says.
Analysts: Dialogue or extraordinary elections
Analyst Halil Matoshi told IBNA that the political gridlock can be overcome only through talks.
"Of course there's no politics without compromise and we must first of all, seek compromise from the government, by inviting the opposition in unconditional dialogue. The opposition must also be clear about the fact that the state is entitled to use "legitimate violence" in order to protect itself, namely the institutions of the country and the Republic of Kosovo. Albin Kurti is becoming a "hero" by often going in prison, but his ethno-nationalist and unionist ideologies are intimidating the people in Kosovo, because with these kinds of policies, Kosovo can be divided between Albania and Serbia", Matoshi said.
Meanwhile, analyst Vilhard Shala told IBNA that the political crisis can only be overcome through parliamentary early elections.
"Government of Kosovo is not capable of managing diversity in the country. As a result of failing to manage political diversity, early elections must take place", Shala said. /ibna/