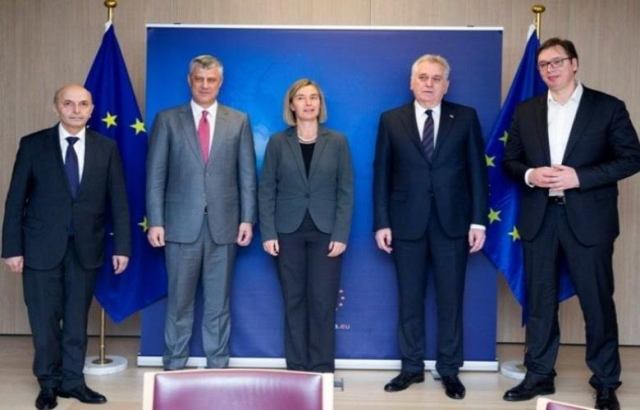 President of Kosovo, Hashim Thaci has announced that he has had a telephone conversation with the Serb Prime Minister, Aleksandar Vucic.
"I just held a conversation with the Prime Minister of Serbia, Aleksandar Vucic. We agreed on working together and through dialogue, to address all issues of mutual interest that relate to the process of the normalization of relations between Kosovo and Serbia", he declared.
Thaci's declaration came a few hours after a second round of talks started in Brussels between presidents Thaci and Nikolic and prime ministers Mustafa and Vucic through EU mediation.
Dialogue between Kosovo and Serbia resumed last week after several days of tension caused by the arrest that took place in France of the former PM Ramush Haradinaj through an arrest warrant issued by Serb authorities and after the departure toward Kosovo of a train with church iconography on it.
According to experts of current affairs, the meeting in Brussels is taking place because there still tension between the sides. Analyst Vilhard Shala told IBNA that today's round of talks is a result of the pressure that the EU and USA are making for the normalization of relations between the two countries.
"The scenarios about the start of a new conflict in the region have alarmed EU and US senior officials. The head of the EU diplomacy, Federica Mogherini called on representatives of Kosovo and Serbia to leave tension behind. The same request has also been addressed by Washington", Shala says. /balkaneu.com/