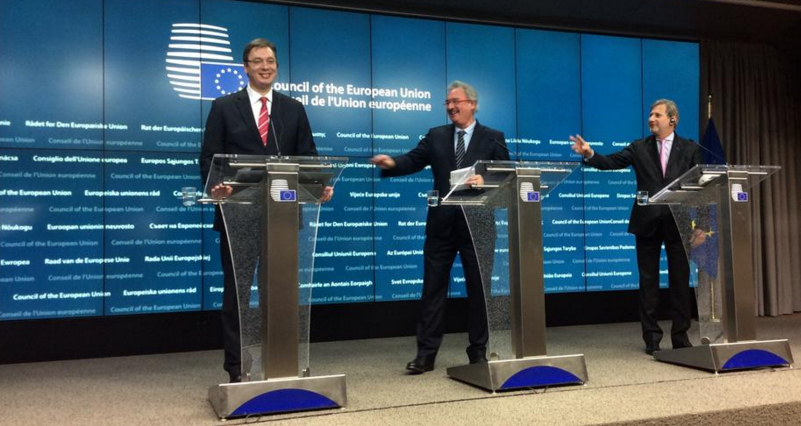 Belgrade, December 15, 2015/Independent Balkan News Agency
By Milos Mitrovic
Serbia has to continue to make progress in the implementation work and make further progress in the normalization process with Kosovo – this is the essence of the Chapter 35 – one out of the two first chapters opened within the accession negotiations of Serbia and Kosovo in Brussels on Monday. Thus, European integration of Serbia is closely interconnected with the dialogue between Belgrade and Pristina.
Serbia formally started accession talks with the EU in January 2014, and the first chapters have finally been opened. Belgrade considers this as historic progress.
"Serbia should ensure that it completes its part of the work on implementation of 25 August 2015 agreements (with Pristina)", EU Council stated in its press release, considering Chapter 35; its official title is "Other business: Item 1: Normalization of relations between Serbia and Kosovo".
Serbia should also "engage in reaching further agreements, furthering the normalization in good faith, with a view to gradually lead to the comprehensive  normalization of relations between Serbia and Kosovo", it went on.
The Council underlines that European Commission and the High Representative for Foreign Affairs and Security Policy "will monitor closely and continuously" Serbia's  fulfillment of what has been agreed with the EU and report "at least twice yearly", on this issue, to the Council.
EU also opened Chapter 32 – Financial control. In the first half of 2016 EU  would open, according to announcements, chapters 23 and 24, which tackle fundamental rights.
Head of the Serbian Office for Kosovo and Metohija said that negotiations within Chapter 35 would be difficult. Belgrade engages in talks with Pristina not just because of the accession negotiations with the EU but also due to its interest in regional stability, Marko Djuric told Radio-television of Serbia today.
Photo: Serbian PM Aleksandar Vucic, EU Council Head Jean Asselborn and EU Enlargement Commissioner Johannes Hahn in Brussels on Monday, December 14. 2015