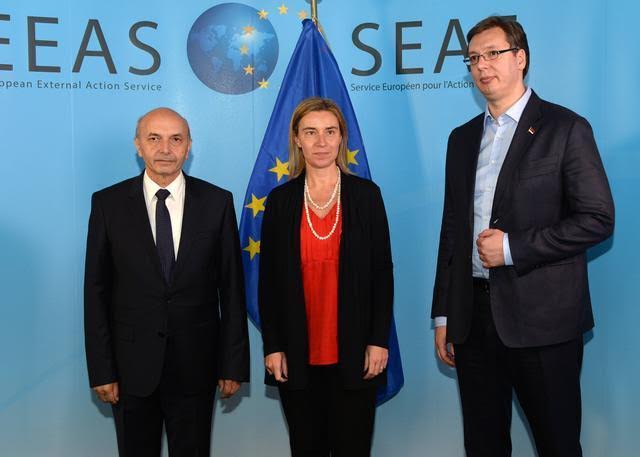 Pristina, 16 September 2015/Independent Balkan News Agency
By Elton Tota
In spite of obstacles, dialogue with Serbia is helping Kosovo's integration in Euro Atlantic structures.
Edita Tahiri, minister for Dialogue in the government of Kosovo, says that although this process has many setbacks, it's yielding results.
"We will sign the Association and Stabilization Agreement with the EU in October thanks to the talks and the delivery of reforms. This way, Kosovo opens the official chapter of European integration. In this context, we also have the process of the visa liberalization, which has unjustly kept citizens of Kosovo isolated. These are the requests on which we're insisting with the EU", minister Tahiri says.
According to her, Serbia cannot advance in the EU integration path, if it doesn't apply the agreements signed with Kosovo.
European law professor, Bardhyl Hasanpapaj, told IBNA that the talks for the normalization of relations between Kosovo and Serbia are necessary.
"The principle of good neighboring relations is one of the main criteria for the accession of the Balkan countries in the EU. Kosovo and Serb leadership have realized that disputes cannot be solved through violence. The solution of pending issues between the two countries is one of the conditions for EU and NATO accession. Should they not be addressed, these countries will remain out of this process", Hasanpapaj says.
Expert of European affairs, Muhamer Pajaziti, told IBNA that Kosovo and Serbia must do more in order to meet the EU accession criteria and that they must learn from Croatia, which became an EU member in 2013.
"Besides the delivery of reforms demanded by the European Commission, Kosovo and Serbia must intensify talks for the normalization of relations. This will be reflected in the life of the citizens of both countries. First of all, they will move freely, they can invest and join their capital for new investments and they will have many other opportunities which affect the stability of the region in general", Pajaziti says.
Dialogue between Kosovo and Serbia, brokered by the EU, started in March 2011, three years after Kosovo proclaimed independence, which Serbia doesn't recognize.
This dialogue is in its fifth year now and 25 agreements have been signed during this process.
Analysts say that if the talks fail, Serbia will have fewer chances to become an EU member, while Kosovo will not be able to sign the Stabilization and Association Agreement. /ibna/