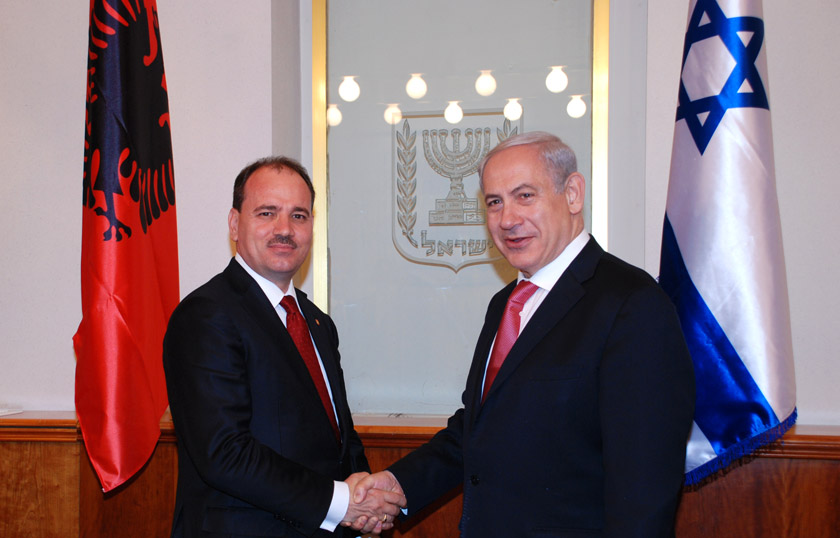 Jerusalem, Israel,  June 19, 2013- The President of the Republic of Albania, Bujar Nishani, during his official visit to Israel was received in a meeting as well by the Chairman of Foreign Affairs and Defense in Knesset (Israeli Parliament), Avigdor Lieberman.
Regarding the situation in the Middle East and beyond, Mr. Lieberman assessed it as explosive and dangerous, by adding that however the State of Israel is trying not to fall prey of provocations.
About the Middle East developments, President Nishani guaranteed the interlocutor that Albania will continue to maintain the same position.
Answering to the interest of the interlocutor, the Head of State noted that the Albanian nation is composed by few religions that co-exist in harmony with one another and that Albanians everywhere in the region are supporting the democratic developments in the countries where they live by contributing this way to the strengthening of cooperation and understanding with their neighbors.
President Nishani was received and held a meeting with the Prime Minister of the State of Israel, Benjamin Netanyahu (photo).
Answering to the interest of the interlocutor, President Nishani stated that the Balkans have turned a new chapter and it could be considered by now as a region of great opportunities by adding that the Albanians with their tolerance and understanding have provided an excellent example to the region and beyond and have meaningfully contributed to peace and stability in the region.
Prime Minister Netanyahu assessed the situation in the Middle East and beyond as very fragile from the security and stability viewpoint while highly praising the positions of Albania regarding the developments in that particular region.
Responding the Head of the Albanian State guaranteed the Israeli Prime Minister that this position will remain unchangeable because it is based on sound principals and objective assessments regarding the developments in Middle East and beyond. /ibna/