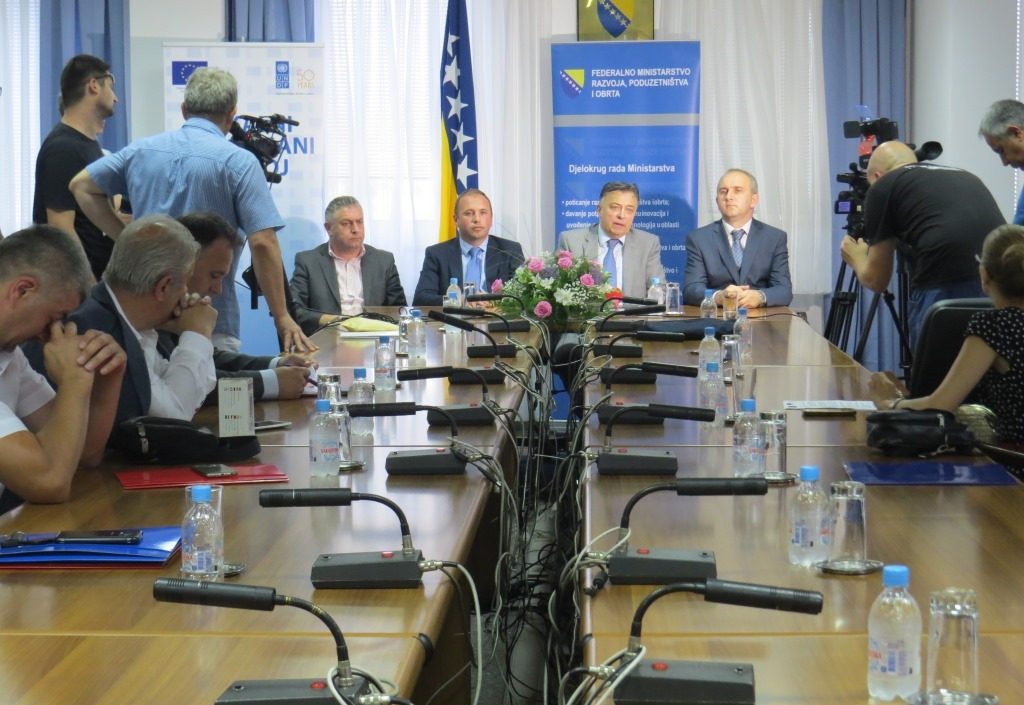 Sarajevo, July 28, 2016/Independent Balkan News Agency
By Mladen Dragojlovic
Federation BiH Minister of Development, Entrepreneurship and Trade, Amir Zukic, mayors and representatives of ten municipalities of the Federation of BiH signed on Thursday  in Mostar contracts on allocation of funds under the grant scheme "Improving the business zones in the Federation of BiH for 2016".
More than 30 applications were sent and 10 projects were selected. These are projects of the municipality Orasje – "Development of advanced business infrastructure in PZ Dusine Orasje", Zavidovici municipality – "The construction of entrepreneurial zone economies – Batvice", Striving – "Building public lighting with local road Tesanj – Tesanjka through the industrial zone Bukva", municipality  Gracanica will receive grant for project  "Rehabilitation of street Senik (phase II) in the working zone Gracanica " and Novi Travnik municipality – "Development of infrastructure in the industrial – utility zone Neobarje Novi Travnik".
Also, funds were allocated for the project of the Vitez municipality "Construction of road infrastructure in the PZ Počulica – Šljivčica", Stolac municipality "Construction of municipal infrastructure in the economic zone Hodovo", Jablanica – "Industrial zone Sljunkara", Kiseljak – "Construction of road infrastructure in the PZ A long field", and the municipality of Kreševo – "Construction of infrastructure in PZ Resnik".
"The development of business zones is very important because the entrepreneurial infrastructure is one of the generators of development and create possibilities of opening of new jobs. But they also are a way of creating new values that will contribute to a better and more successful development of the Federation of BiH in the future", Federal Minister Zukić said after the ceremony in Mostar.
He added that the funds allocated for this project are quite significant, emphasizing that his wish is that these funds increase in the future and that the number of participants will be bigger. Zukic said that the ongoing reform will change some regulations in order to shorten the process of registration of new enterprises. These reforms should be done in the next 12 to 18 months and their purpose is to create the situation in which registration would not last more than seven days.
The representative of UNDP, Aldin Medjedovic, said that this grant scheme aims to boost the creation of business zones in the Federation of BiH, and that these activities are part of the continuous efforts and commitment of UNDP in BiH with the aim of providing stimulus to economic growth and opening of new jobs.
The finalization of selected projects, as it is planned, should result in the creation of 200 new jobs, the entry of 25 new businesses in the mentioned zones, improved conditions for new investments and expansion of support services to business development within the business zones.