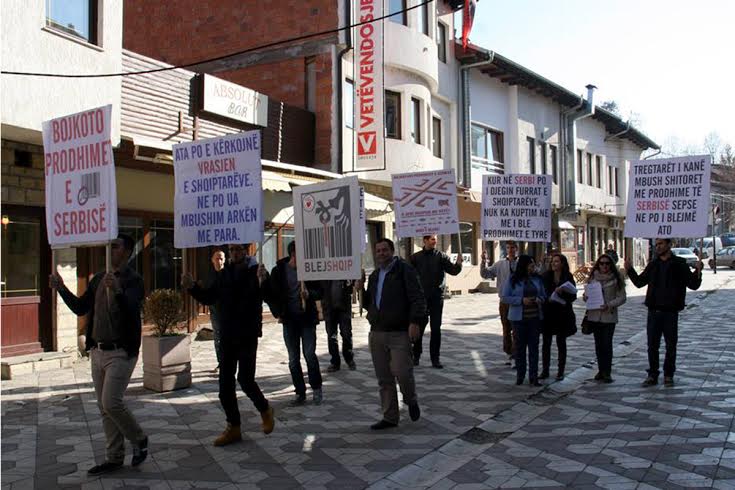 Pristina, November 24, 2014/Independent Balkan News Agency
By Elton Tota
Self Determination invites the citizens of Kosovo to boycott products made in Serbia.
Analysts of Self Determination say that by purchasing Serbia's products, Kosovo is helping this country and damaging the  its own economy and domestic businesses.
Self Determination reminds the citizens of Kosovo that from 1999 until 2006, Kosovo has spent a total of 856 million Euros to buy Serb products. In 2000, the value of imports was only 15 million Euros. In 2001, import amounted to 176 million Euros to go up to 178 million Euros in 2002. In 2003, there was a drop of the value of imports from Serbia to 156 million Euros, while in 2004, this figure went up to 161 million Euros. In 2005, Kosovo imported from Serbia 170 million Euros worth of products.
In the last war in Kosovo, the Serb state killed around 14.000 people. Nearly 90% of them were unarmed civilians, mainly consisting of children, women and elderly people. Around three thousand people were abducted and never found. The majority of them are in Serbia. Around 20 thousand women were raped, 740 thousand people were forcefully displaced and 120 thousand homes were destroyed or damaged by the Serb military, says this political force.
According to Self Determination, another reason to boycott Serb products relates to the fact that Serbia destroyed Kosovo's economy at the start of '90s, which led to a fall of economic development in Kosovo and a rise of poverty.
Head of Self Determination, Albin Kurti says that boycott must last for as long as it takes Serbia to give up Kosovo, admitt the crimes that it has committed and pay for damages caused during the war.
"Self Determination invites the citizens to consume domestic products, while in terms of non domestic products, they should consume products from any other country but Serbia. Consumption of domestic products leads to the creation of new jobs. Employment has positive effects for the economy of Kosovo",  Kurti declared. /ibna/