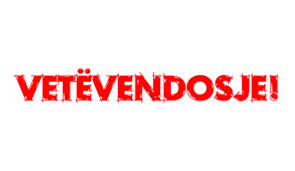 Pristina, May 21, 2013
Self Determination Movement has expressed its concern about the agreement signed in Belgrade for the sale of the mine of Trepçe. This party refers to this agreement as the "so called agreement" and blames the government of Kosovo for holding negotiations with Serbia, a country that doesn't recognize the independence of Kosovo.
"Since the start of negotiations, Self Determination has objected to them, stressing that the government on behalf of the state, negotiates for a part of the territory with a foreign country such as Serbia. So, we may as well accept the fact that permission is needed for Belgrade for everything. The lawmakers that voted in favor of the agreement for the North of Kosovo and the association of communes, have admitted the existence of a double sovereignty with Serbia", states the press release of this movement.
Meanwhile, SD also recalls the incentive of this movement to abrogate contracts that belong to the period from 1989 until June 10, 1999.
"On April 5, 2013, following a parliamentary debate, the parliamentary group of Self Determination proposed to parliament the Resolution which legally abrogated all contracts and agreements from March 22, 1989 until June 10, 1999. This resolution was not voted and the decisions taken during Miloshevic's regime remained in power", states the press release.
SD has also talked about the profile of the company which has signed for the Trepçe mine, recalling the maneuvers made in Albania for Alb Telecom.
"New Generation Power company claimed that it had the support of the US Department of State and that there will soon be an agreement with the government of Kosovo. The owner of the company, Kathuria is known for the Albania public. In 1999, through a ghost company called New World Telecom, he had attempted a similar scheme to make investments on Alb Telecom in agreement with the government of Albania. Many Albanians and Albanian-Americans wrote to the US Congress, Senate and Department of State about Kathuria, demanding explanations about this investor. Thanks to the intervention made by these institutions, that agreement didn't take place", states the press release of Self Determination Movement. /ibna/